Bruce Campbell Reacts to 'Ash vs. Evil Dead' Coming to an End
It's the end of a very bloody road for Ash Williams (Bruce Campbell) and his trusty band of heroes trying to save humanity.
Starz announced on Friday that the third season finale of Ash vs Evil Dead on April 29 will actually be the series finale. "Ash v Evil Dead has taken audiences on a wild ride for three seasons thanks to the fantastic performances and creative efforts of Sam, Bruce, Rob (Tapert, Exec Producer) and the entire cast and crew. We are proud to send the show out with a bang…and a splat," said Carmi Zlotnik, President of Programming for STARZ.
Campbell, who famously chews the scenery as the beloved Ash, also reacted to the news of the show's end. "Ash Vs Evil Dead has been the ride of a lifetime. Ash Williams was the role of a lifetime. It was an honor to reunite with Evil Dead partners Rob Tapert and Sam Raimi to give our tireless fans another taste of the outrageous horror/comedy they demanded. I will always be grateful to Starz for the opportunity to revisit the franchise that launched our careers."
Here is a graphic Campbell also sent along:
Based on the popular Evil Dead movie franchise by writer/director Sam Raimi, the series version premiered on Starz on Halloween 2015, picking up 30 years after the films ended.
The series, known for its excessive violence, special effects, and humor, also starred Lucy Lawless, Ray Santiago, and Dana DeLorenzo. As of this season, the show has aired 30 episodes. It was developed by Raimi, Ivan Raimi, and Tom Spezialy.
Watch below for a preview for the penultimate episode, airing this Sunday:
Ash Vs. Evil Dead, Series Finale, Sunday, April 29, 10/9c, Starz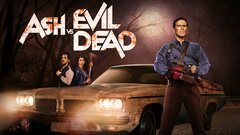 Powered by