'Jay Leno's Garage' Sneak Peek: Jamie Foxx Reveals His Most Dangerous Stunts (VIDEO)
Former late night host Jay Leno, as we all know, is crazy about cars and having interesting guest stars on his CNBC show.
On the Thursday night's season premiere of Jay Leno's Garage, he has none other than Oscar-winner Jamie Foxx. And the singer-actor shows off his impressive (and totally outrageous) Rezvani Tank.
In an exclusive sneak peek, Jamie admits the car is a little over-the-top — it has bomb protection and bullet proof windows. "When you're in the mean streets of Pacific Palisades, you know, it's going down," he jokes.
The actor also chats with Leno about the dangerous car stunts in his 2017 movie, Baby Driver.
Watch the full clip below:
Jay Leno's Garage, Season Premiere, Thursday, April 19, 10/9c, CNBC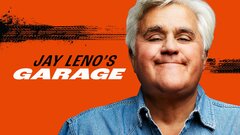 Powered by