'Black Lightning' EP Salim Akil on Season 2 Themes, Crossovers & DC Fans
The CW's new series Black Lightning electrified (pun intended) audiences with its first season. And following that powerhouse finale, the freshman show has tremendous momentum and plenty of new storylines to flesh out in Season 2.
TV Insider spoke with Lightning executive producer Salim Akil about what direction the superhero family drama will be going in its second season, how Thunder will adjust to her powers, and if any crossovers will be happening in the near future.
DC fans are a tough sell — how do you feel about the strong response?
Salim Akil: As an artist, you try to come from your heart and I try to do and say things that I care about. I try to entertain in a way that I think is fun — with music, a bit of humor. But also with social examination of what's going on in our society and try to do it in a real way. Balancing the entertainment and not getting too preachy or dogmatic about it was a tough rope to get across. What's validating is seeing people have fun, getting the story lines, and accepting them. All of that feels good.
Why did you flip the script and not make BL an origin story?
That's how most of these shows start off so I just figured let's take a chance and try something different. [The Season 1 finale] is more of an origin story than any of the other episodes. We actually get to see [Pierce] get his powers for the first time.
Does Black Lightning exist within other superhero universes?
Jefferson Pierce (Cress Williams) exists in Freeland. He has his own world. We're creating that world. That's why we put out so much information in the few episodes we have. We wanted to start creating our own characters and world. Anybody that would show up on our show would be in our world, in our reality.
Can you tease any crossovers in the future?
No because I really don't have the intention to do any crossovers. I know that those are coveted and people really look forward to them. If I were going to do that then I would want to do in a unique way. The idea of a crossover is exciting but I need to come up with an idea that's different in my own imagination.
How much did the suit change over the course of the season?
Laura Jean Shannon who did the suit, she's really creative and an amazing artist. We changed it a bit so Cress could be a little more comfortable in it. What I wanted to do was acknowledge that Jefferson is a little bit older, so he needed something that had even more protection than most. That's why you see it has a lot of tactical aspects.
With Thunder, we don't even know the extent of her powers yet. Her suit could change depending on what her powers reveal to her. What else can she do?
In Season 2, will you be focusing on the powers of Anissa (Nafessa Williams) and Jennifer (China Anne McClain)? How do those developments change the family dynamic?
For sure. If we want to talk about the reality of the situation, Pierce has two daughters who have powers. He and Lynn (Christine Adams) know what that means, both the positive and the negative aspects. Honestly, the girls really haven't seen the negative on a personal level.
One of the things I enjoyed most recently was the scene between Jennifer and her mom. She asks her mom if she can even get pregnant. So dealing with the powers on a personal level is going to be a theme in the second season.
What were your favorite episodes or scenes in Season 1?
The scene I just spoke about and the last scene between Pierce and his dad in the flashback.
Would you say you approached this series as a family drama with superhero elements sprinkled in, or a superhero show with family drama elements?
We approached this as a family drama and then we have to entertainment and work in the superpowers. We're gonna delve into that aspect of who they are more because I think really that's what makes us different from any of the other shows is the family dynamic.
We really want to talk about and examine things that people go through in their everyday lives with their children, with their environment, with their lovers, so and so forth. I enjoy the superhero aspect but the balance it all out so we don't get lost in the powers.
Black Lightning, Season 2, Fall 2018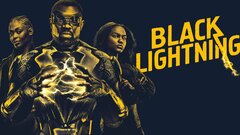 Powered by