Meet Brett Tutor, the Hunky New Carpenter on 'Trading Spaces'
A handsome man with a hammer? Sign us up!
Brett Tutor is the charismatic new carpenter on the highly-anticipated revival of TLC's hit design show Trading Spaces, and on Saturday night's new episode, his skills are put to the test by none other than Ty Pennington, one of the show's OGs.

Tutor chatted with TV Insider.com about how he landed the coveted role and what he thinks about inheriting the Trading Spaces hunk label.
TV Insider: How does it feel to have Trading Spaces back?
Brett Tutor: It feels great. Like getting adopted into a highly dysfunctional family. It's crazy because I'm the new guy. I love being a part of it and seeing how many people watch it, how authentic it is and creative. And seeing how applicable these designs are to people's own homes and budgets.
In this episode, Ty and Carter are the designers… Do you want to become a designer on the show?
I would love to design. That would be a blast. I want a few more TS episodes under my belt because I'm learning a lot about design. It's easy to pick out stuff that's your taste or style. When you're designing for somebody else, that takes a little bit more skill. Hopefully, I can hone my skills and the show will let me give designing a shot.
See Also
The host and the designer recall their show's most heartbreaking reveal. Plus, look back at other 'Spaces' goofs that made great TV.
You look a little overwhelmed in this episode… what was running through your mind?
Whatever you see on TV, quadruple it in terms of the stress I was feeling. My first day on the job was being being the carpenter for probably the most famous carpenter in the world. I was learning everything for the first time like what tools we had. I'm calling that episode Hazing Spaces.
Are the OGs pulling pranks on the new guys?
Oh yeah! [Laughs] That first day I was a little nervous. I was new to that whole world. As soon was everyone started making fun of me—which was pretty quick—I felt part of the family. But everybody is unbelievable down to Earth and kind and more than welcoming. We just jumped right into it. There's a whole lot of laughing and a whole lot of coffee.
See Also
'Everybody who's watching will get to experience us as a family,' promises host Paige Davis.
You've been all over the world and have a pretty nontraditional career path, why TV now?
I've been a home inspector for over a decade and grew up doing carpentry work. I've done a lot of different things, I have a lot of different passions from stunt work to doing things with the Discovery Channel in South America. So I got comfortable with TV stuff and then getting to do construction on TV fit and I just got really lucky.
What was the casting process like?
I was in Los Angeles for a meeting with Discovery and I posted a picture of my air stream by the ocean on Instagram and a producer for TS saw I was in LA, contacted me and asked me to come in and meet with them.
They wanted to know about my experiences and see some photos of things I had done and then they put me through a little carpentry challenge with Paige. Then they did another carpentry challenge that they filmed which you can watch on the TLC Go app. Ty and Carter put me and the other new carpenter Joanie through a 60-minute challenge and then after that it was game on.
See Also
Paige Davis is back as host!
How does it feel to be called the next Trading Spaces hunk?
I don't know! [Laughs] I should probably watch what I eat a little bit more. I'm just grateful for the show.
Your Instagram profile says singer/songwriter … what are you working on now?
I have a new single coming out. I'm going to release that in probably a week or two. It's a song called "Flower Child" and will be available on Spotify and iTunes. I play music with my brother. Our band is called The Tutor Brothers Band. He was on American Idol a long time ago.
Trading Spaces, Saturdays, 8/7c, TLC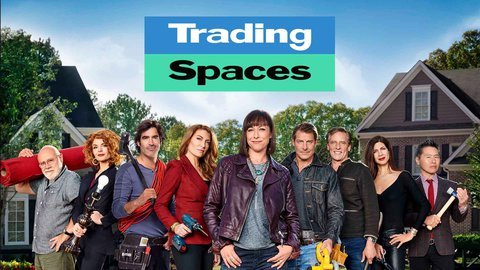 Powered by