The CW Reveals Summer 2018 Premiere Dates
Summer can't come soon enough!
The CW just announced a variety of summer premieres dates for new series including Burden of Truth starring Smallville's Kristin Kreuk and The Outpost.
Plus, get ready for a new season of My Last Days, which is hosted and executive produced by from Jane the Virgin actor Justin Baldoni, and fresh, new episodes of the very funny seris Whose Line Is It Anyway?
See Also
The 'Smallville' actress returns this summer for the newly-acquired legal drama.
Check out network's schedule of summer premieres and finales below (all times ET/PT):
FRIDAY MAY 25
8:00-9:00PM MY LAST DAYS (Season Premiere)
9:00-10:00PM LIFE SENTENCE (New Episode)
MONDAY JUNE 4
8:00-9:00PM SUPERGIRL (New Episode)
9:00-9:30PM WHOSE LINE IS IT ANYWAY? (Cycle Premiere)
9:30-10:00PM WHOSE LINE IS IT ANYWAY? (New Episode)
FRIDAY JUNE 15
8:00-9:00PM TBD
9:00-10:00PM LIFE SENTENCE (Season Finale)
MONDAY JUNE 18
8:00-9:00PM SUPERGIRL (Season Finale)
9:00-9:30PM WHOSE LINE IS IT ANYWAY? (New Episode)
9:30-10:00PM WHOSE LINE IS IT ANYWAY? (Encore Episode)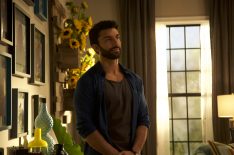 See Also
'This is an inspirational look at life, told by people who are just like you and me,' Baldoni says. 'The only difference is that doctors have given them a timeline.'
MONDAY JUNE 25
8:00-9:00PM PENN & TELLER: FOOL US (Cycle 5 Premiere)
9:00-9:30PM WHOSE LINE IS IT ANYWAY? (New Episode)
9:30-10:00PM WHOSE LINE IS IT ANYWAY? (Encore Episode)
FRIDAY JUNE 29
8:00-8:30PM MASTERS OF ILLUSION (Cycle 5 Premiere)
8:30-9:00PM MASTERS OF ILLUSION (New Episode)
9:00-10:00PM PENN & TELLER: FOOL US (Encore Episode)
TUESDAY JULY 10
8:00-9:00PM THE OUTPOST (Series Premiere)
9:00-10:00PM THE 100 (New Episode)
WEDNESDAY JULY 11
8:00-9:00PM BURDEN OF TRUTH (Series Premiere)
9:00-10:00PM THE ORIGINALS (New Episode)
See Also
Penn Jillette shares his rules for performing—and the reason he thinks fans like being tricked