'Lethal Weapon' Sneak Peek: Can Riggs Let Go of His Rage for Good? (VIDEO)
As Martin Riggs (Clayne Crawford) has shown us over and over on Fox's Lethal Weapon, daddy issues do not go away once you're all grown up.
Right from the very pilot of the TV version of the popular film franchise, Riggs has shown that he has no problem putting himself in danger, and he has even come close to offing himself when he just can't take the pain of his childhood anymore.
But, if Riggs should listen to anyone, it's Dr. Maureen Cahill (Jordana Brewster), who tells the stubborn detective that it's time to move on from all the pain and rage he carries with him. The question then is…will he listen?
The Tuesday, April 10, episode, "Frankie Comes to Hollywood," is the first of five new Lethal Weapon episodes including the second season finale. While the series hasn't officially renewed for a third season, there's a good chance the solid police drama will find itself back on the fall schedule this year.
Here is a clip featuring Cahill and Riggs from Tuesday's new episode:
Lethal Weapon, Tuesdays, 8/7c, FOX.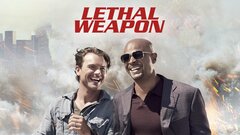 Powered by