'Lethal Weapon': Will Riggs' Anger Cost Him His Badge? (VIDEO)
Martin Riggs (Clayne Crawford) has been through a lot since the beginning of Lethal Weapon on Fox.
His fiancée was murdered (along with their unborn child) and anger and vengeance have fueled his existence ever since. But through the help of some good old fashioned therapy via Cahill (Jordana Brewster) and some serious bonding with partner Roger Murtaugh (Damon Wayans) and family, Riggs has come a long way… right?
Not so fast. In Tuesday's episode, Riggs loses his temper in a big way and Avery (Kevin Rahm) questions whether he's fit to continue to serve the LAPD. In an exclusive clip, Riggs asks his partner whether his anger has improved from last year. Will Murtaugh tell his pal the truth? Is this partnership doomed?
Lethal Weapon, Tuesdays, 8/7c, Fox.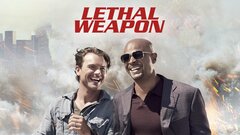 Powered by