'Quantico' Star Marlee Matlin Teases Changes to Season 3
Marlee Matlin isn't the first person to portray a deaf FBI agent on television. (That would be Deanne Bray on the 2002–2005 series Sue Thomas: F.B.Eye.)
But the Oscar winner, who joins Quantico for Season 3, might be the first to take a crack at sneaking in swear words on network TV using American Sign Language. Admits Matlin, "I tried to get away with it!" Her character, Jocelyn Turner, could be excused for using an expletive, given her high-stress job.
The former fed, deafened in a bomb blast, joins present and former FBI agents including the formidable Alex Parrish (Priyanka Chopra) in a black-ops group to fight the world's worst villains. She takes us inside the operation.
See Also
The spy drama returns along with star Priyanka Chopra's enviable mane.
TV Insider: Tell us about the changes on Quantico.
Marlee Matlin: It's like Mission: Impossible. There's one overarching story, weekly cases and no flashbacks, which is a good thing. They were hard to follow!
Are there really deaf FBI agents?
Yes, mostly as tech specialists. Jocelyn was a field agent before she became deaf. She's now an instructor with an expertise in surveillance, and she relies on her eyes a great deal.
Jocelyn's a top-notch sniper. Did you train?
I had to ask my husband, who was a police officer for 30 years, to teach me how to hold a gun when my character is on the street looking for a bad guy. I'm excited he'll see me at a job much like his.
The team members use ASL with Jocelyn. Which actor is the best signer?
I have to be nice. They're all good. [Laughs] But Blair Underwood is amazing. He was signing after a half-hour's lesson!
Quantico, Season Premiere, Thursday, April 26, 10/9c, ABC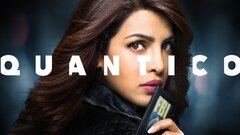 Powered by