David Bianculli: Remembering Steven Bochco
Writer-producer Steven Bochco, who passed away on April 1 at age 74 after a battle with leukemia, was one of the most influential creators in this or any other era of television. He redefined the drama in 1981 with Hill Street Blues and then redefined it again in 1993 with NYPD Blue. He had plenty of other hits—L.A. Law (1986–1994), Doogie Howser, M.D. (1989–1993)—and his output extended to Murder in the First (2014–2016). Even his wild-swing misses, like 1990's musical Cop Rock, were fascinating failures.
Bochco approached the medium on his own terms. He took inspiration from the frantic filmmaking style and sprawling cast lists of Robert Altman, the vérité looseness of docs like Alan and Susan Raymond's The Police Tapes—a gritty 1977 chronicle of the South Bronx—and the continuing, overlapping storylines of daytime soaps. At every turn, he changed rules and challenged conventions.
Bochco's impact looms so large, it's managed to touch a majority of the quality dramas that have emerged in the past 25 years. Producer David Milch rose up from the writing staff on Hill Street to help start NYPD Blue and create the superb Western Deadwood. David E. Kelley graduated from L.A. Law and launched Ally McBeal, The Practice and Boston Legal, and most recently executive produced Big Little Lies.
Even those in the industry who didn't work directly with Bochco were shaped by his ideas. The substantial ensemble on The West Wing might not have existed if it weren't for the expansive roster on Hill Street and beyond. The antihero protagonists of The Sopranos and Breaking Bad share DNA with NYPD Blue's Andy Sipowicz (Dennis Franz), who proved that viewers were capable of both forgiving and embracing the deeply flawed.
One of Bochco's first major career highs was as a writer on Columbo, the brilliant detective series starring Peter Falk from creators Richard Levinson and William Link. "They were wonderful teachers and mentors to me, because they had to be," Bochco told me in a 2015 interview as he broke into a laugh. "I wasn't just working for them—I was the staff. It was just the three of us." In 1971, he penned Columbo's first episode (two TV movies had already aired), which was directed by another young turk on the Universal studio lot: Steven Spielberg.
Just as Columbo upended the mystery genre by revealing the killer and his methods at the start of each episode, Bochco's many series sought to defy the status quo. On Hill Street and especially NYPD Blue, not only did characters frequently fail to do the right thing, but they didn't even always survive—a headline-worthy move back then. When they passed, it wasn't as expected. Case in point: NYPD Blue's venerated Bobby Simone (Jimmy Smits) did not die in the line of duty. Rather, he was felled by an infection while recovering from a heart transplant.
Bochco's shows were often a reaction to the times, as well as to other offerings on TV. His Murder One (1995–1997), a drama that devoted an entire season to a single courtroom case, was an attempt to take a deep dive into the legal and jury trial process, à la real-life coverage of the O.J. Simpson murder trial. And NYPD Blue, with its unprecedented level of sex, violence and raw language for a broadcast drama, was a counterattack intended to blunt the appeal and censorial freedoms of up-and-coming cable fare.
Ultimately, cable ended up learning from Bochco and would go on to mimic him with the likes of AMC's Mad Men, FX's Justified and HBO's The Wire. In no small way, we have Steven Bochco to thank for those, and so much more.
David Bianculli is a TV and film professor at Rowan University, New Jersey, and appears as a critic and guest host on NPR's Fresh Air With Terry Gross.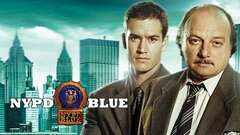 Powered by