'Smallville' Star Allison Mack Allegedly Involved in Sex Cult, Arrest Imminent
Cult leader Keith Raniere was arrested in Puerto Vallarta, Mexico, over the weekend after fleeing the United States following an FBI investigation. He is being charged with sex-trafficking and forced labor conspiracy.
Alongside him was former Smallville actress Allison Mack, who has been linked to the cult and allegedly lured women into the organization called NXIVM (pronounced Nexium) and branded them.
"As alleged, Keith Raniere displayed a disgusting abuse of power in his efforts to denigrate and manipulate women he considered his sex slaves," said FBI official William Sweeney.
"He allegedly participated in horrifying acts of branding and burning them, with the co-operation of other women operating within this unorthodox pyramid scheme. These serious crimes against humanity are not only shocking, but disconcerting to say the least, and we are putting an end to this torture today."
NXIVM reportedly operates under the guise of a "self-help group." It was founded in 1998 in upstate New York and counts heiresses and Hollywood actresses as its members. Now the group is being accused of abusing women. The FBI alleges Raniere used his members as sex slaves and required them to stay quiet about the organization's activity.
In a New York Times exposé, 5 women came forward and admitted they were part of the cult. They were branded with Raniere initials—sometimes with a cauterizing pen—in bizarre initiation ceremonies that were filmed. The women confessed they were coerced to "master-slave" conditions and physically punished if they disobeyed orders.
"As alleged in the complaint, Keith Raniere created a secret society of women whom he had sex with and branded with his initials, coercing them with the threat of releasing their highly personal information and taking their assets," said U.S. attorney Richard P. Donoghue.
Mack allegedly is a high-ranking member of the cult and considered to be Raniere's right-hand woman. She's now reportedly the next to be arrested.
The New York Post reports Mack was introduced into the organization in 2006 by her Smallville co-star Kristin Kreuk. "Allison was used, as was Kristen, as a lure to bring in other women because of their celebrity status," revealed Frank Parlato, who broke the story first last June.
Kreuk left the group in 2012 after the Albany Times Union alleged Raniere was having sex with underage girls. Mack stayed involved.
In the video below Mack and Raniere discuss acting, techniques, and how he helped her in his "KRConversations" series on YouTube: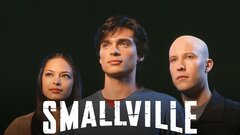 Powered by