'Music City' Executive Producer Adam DiVello on What Makes a Great Reality TV Cast
You probably recognize Adam DiVello's name from the credits rolling after some of your favorite early 2000s reality TV shows like Laguna Beach and The Hills. The prolific producer is back again with another hit show following the lives of five young people pursuing their dreams of stardom in Nashville.
CMT's new reality series Music City gives fans an all-access look into the day-to-day lives of Kerry, Rachyl, Jessica, Jackson, and Alisa, who are all struggling to break into the music industry (minus Rachyl: her dream is to become a lawyer) while balancing friendship and family.
The stakes are high, relationships are tested, and the future is bright but uncertain for this group of talented up-and-comers.
DiVello spoke to TV Insider about his new series, how he chooses his casts, and if this show could be the next pop-culture obsession.
First off, the soundtrack is so good on this show. How do you develop it? What's the selection process like?
Adam DiVello: We have a great music supervisor, John Ernst, who's been working with me for years. I think myself and my staff, we just keep an ear peeled for the newest, latest thing we can find. For this show, we wanted to branch out and not just do country music. We wanted to reach a broader audience but [for the show to] still have that Southern feel to it.
We don't have interviews on this show. The characters don't talk to camera ever, so we rely on the music to help tell their stories. A lot of the time we happen upon a song that will capture an emotion or feeling to help tell the audience what's going on.
Why highlight the Nashville scene?
From the beginning I was a fan of Nashville [the scripted series]. That's kinda where I had gotten the idea. The Nashville show was so much fun and ripe to have a reality version of it. We really wanted to show that struggling artist out there chasing their dreams. I think we did it with our cast.
How do you identify good cast member/a good character? What do you look for?
I think it's about A) their comfort level on camera; obviously, they need to be able to speak in front of a camera. And then B) who has the best story? It all comes down to story.
For me, it's what is the most interesting or compelling story. With this show, we really wanted to tell stories of people putting a lot on the line to really chase a dream and the sacrifices it takes and the challenges that they face.
We had met Kerry Degman first, and his wife, Rachyl. That was our first jumping-off point. He's newly married, they're young, they have a young child. She wasn't a singer. She was just there just following his dream and kinda gave up hers. Then, we kinda branched off from Kerry and Rachyl, asked them who their friends are. That's how the whole ball starts rolling.
We meet with tons and tons of people. I'd say we met with over 100 people before we had this cast.
Is it hard to convince people to do a reality show?
The people who don't want to do a reality TV show, you're pretty much never going to convince them to do it. They have to have some sort of willingness to be on camera each week and see their lives on camera.
Thankfully, when I landed in Nashville and started casting people, I think people knew my past shows [The Hills, Laguna Beach]. So they had a pretty good idea of they were in store for. I'm super-grateful to the cast for letting us into their lives and giving full access to everything they had going on.
Why do you think audiences devour these types of shows?
I think people ultimately like a good story, and I think that the way that we tell it and the style that we tell it in I think is different than a lot of other shows that are on television. It's extremely enjoyable and such a great escape from your everyday life.
Do you keep in touch with any Hills/Laguna cast members?
I do as much as I can. Whitney Port came to the premiere party down in Nashville for this show. I still stay in touch with Lauren Conrad and Audrina Patridge. We all worked very hard with capturing their stories and portraying them in a light where they would have longevity and people would continue to be interested in their lives. That makes me super-proud that they've gone on and had success beyond the show.
There are always rumors that producers manipulate scenes and the cast. How do you keep your production organic?
It's not a documentary. We don't have their houses wired up and their cars wired up. We do have to plan where we're going. You do have to get releases and locations cleared. You can't just walk into the library in Nashville and shoot Rachyl studying for her LSAT. It's more scheduled.
We kinda schedule out the week, but when they talk, and what they're talking about, it's all them. It's all their story and what's going on in their lives, but we need them to do it in front of our cameras.
If Music City gets renewed for Season 2, what do you want to explore?
I think a little bit more travel. I think I'd like to go with Kerry on a couple of road trips to see what it's like out there. And just see where all the relationships are going. We'll be meeting some new people [on the show] who have come into the [cast members'] lives.
Check out an exclusive clip from Music City below:
Music City, Thursdays, 10/9c, CMT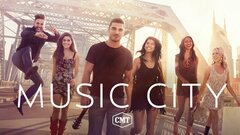 Powered by