'Real Money': Rocker Eddie Money and Family Are Sh-Sh-Shakin' up Reality TV
Rock 'n' roll icon Eddie Money charted 23 timeless songs in his tumultuous four-decade career. Turns out, his roster of endearingly cornball jokes—about talking dogs and teary groupies—quadruples that, and he launches our recent, rollicking interview by treating me to a four-minute set.
We should be discussing Money's new AXS TV reality show Real Money, an offshoot of his 2016 Oprah: Where Are They Now? episode that features the now 69-year-old road warrior and his longtime wife Laurie trying to keep the peace at home and within Money's band.
The two worlds aren't so far apart. Money (nee Edward Joseph Mahoney) tours with three of their five adult offspring — business-minded Dez, charismatic wild child Jesse and chill drummer Julian — while eldest son Zach and dubstep-loving Joe hold down the fort.
"I was in police training, I quit the police department, and I was paying board to my parents before I even left home," Money grumbles cheerfully. "My wife gives these kids credit cards for gas, to go out and eat. I feel like an old rock star with five very dysfunctional kids, and I thought it would be good television."
Though the discord is often tongue-in-cheek, Money doesn't play when it comes to his household's no-alcohol policy, an offshoot of the rock icon's peak party days that culminated in a near-fatal 1980 fentanyl overdose. The wakeup call resulted in a lengthy recovery process that gave rise to Money's platinum No Control album — and his insistence that his own budding rock stars keep their impulses in check.
"The whole No Control album is about [how] you don't have to be rich and famous to get drunk and wind up killing somebody," says Money, who parties booze-free with Sammy Hagar in one Real Money episode. "I was devastated. The only thing good about it was I went down to 165 pounds and wore a Versace suit on the album cover.
"I think that alcoholism is hereditary, because I don't drink anymore, but my kids are drinking," Money continues, his voice tinged with sadness. But, he adds, the fallout has been minimal: "They're not out ripping off houses. They're not shooting heroin. They're not getting DUIs."
And while the elder Moneys' empty-nest era is long overdue, he admits, "I'm glad the kids all still live at home. I'd rather be around my children and I can keep an eye on them."
Currently on a cross-country tour, Money says his era's faithful rock fans are "why people come see me live — and because I've still got all my hair, thank God, and I could lose 10 pounds but I'm not a fat rock star. When I go out there and play the hits — 'I Wanna Go Back' and 'Take Me Home Tonight,' 'Think I'm in Love,' 'Shakin'' and 'Two Tickets to Paradise' — people reminisce. It brings everybody back to a certain time in their life when they were happy. Or at least younger."
Including this reporter, who snuck out of bed at age 12 to watch Money perform on The Midnight Special in 1978. Money crows his approval: "I was very cute on Midnight Special!"
And that's no joke.
Real Money, series premiere, Sunday, April 8, 9:30/8:30c on AXS TV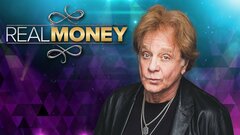 Powered by