First Look at Fox's 'Beat Shazam' Season 2 Promo With Host Jamie Foxx
Starting in late May, Fox is making Tuesdays a night of music and matchmaking, as its hit series Beat Shazam and Love Connection return for new seasons on May 29.
The interactive game show Beat Shazam, again hosted by Jamie Foxx, kicks off the night with its Season 2 premiere. And TV Insider is pleased to exclusively unveil the promotional art for Beat Shazam's new season.
Check out the images, below and at the top of this post. The creative artwork shows host Foxx in several places at once—we knew the man is multi-talented, but this takes it to a new level!
Jamie Foxx is also an executive producer of Beat Shazam, along with reality/game show producing pros Mark Burnett (Survivor, The Voice), Jeff Apploff (Don't Forget the Lyrics!) and Barry Poznick (Are You Smarter than a 5th Grader?), and Rich Riley and Lauren Zalaznick for Shazam.
Beat Shazam pits teams of two against the clock and each other as they attempt to identify the biggest hit songs of all time. In the end, the team with the most money banked will outlast the competition and go against Shazam, the popular song identification app, for the chance to win up to $1 million.
See Also
Contestants vie for some major dough in a game show inspired by the famous song-identifying phone app
Actress, model and writer Corinne Foxx, daughter of Jamie, joins the series as its new deejay this season. Celebrity guests set to appear in Season 2 include Demi Lovato, Shaquille O'Neal, Smokey Robinson and Michael Bolton, among others.
Beat Shazam Season 2, Tuesdays beginning May 29, 8/7c, Fox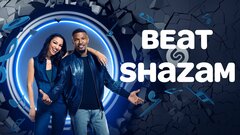 Powered by