5 Questions With Natalie Martinez of ABC's 'The Crossing'
In ABC's The Crossing, a small coastal town finds itself home to an influx of asylum-seekers who wash up on its beach. In a sci-fi twist, the refugees are fleeing a war-torn United States 180 years in the future.
Natalie Martinez stars in the twisty drama as a refugee who has been genetically engineered for military purposes and who is desperately protective of her young daughter. The actress reveals that the high-octane, character-driven role is a dream come true and gushes, "I got the best of both worlds—I got a really good part to play, and I get to play around on set doing stunts!"
After that, the admitted stunt-junkie answered our "5 Questions." Read on for her responses:
If your TV had only three shows or networks on it, what would you be watching?
Natalie Martinez: For sure a music video channel; that way I could have a playlist going on. I'd have Forensic Files. Then, the other one would have to be HGTV.
What are three foods you have to have in your fridge or pantry at all times?
Any kind of Cuban food—I pretty much eat rice and beans with everything. And plantains, I have to have plantains. I can't live without garlic. I put garlic in everything. Hmm, I would have to say cereal, plantains—gotta have something Cuban—and Perrier water.
Tell us about a time when you were completely starstruck.
There's a singer called Jerry Rivera. He was this Latin pop star in the '90s. I grew up listening to his music and having all his CDs. One day, I was appearing at a festival in L.A., and he was there. People were like, 'Do you want us to introduce you?' And I was like, 'Don't you dare!' I was too nervous to meet him. Eventually, I ended up behind him, and this publicist was like, 'Natalie, this is Jerry. Jerry, this is Natalie.' I couldn't say anything; I just nodded my head and smiled.
What do you think you'd be doing for a living if you weren't an actor?
I wanted to work in the maternity ward as a neonatal nurse. That turned into wanting to become a doula. I actually wanted to be a doula, and then I fell into this.
What's a movie you can watch over and over again?
Oh my God, Con Air! My dad and I used to watch it all the time. It was one of those things that when it was on TV, I just always had to watch it. Same thing with Waterworld. I'm a really big fan of those big '80s and '90s action movies.
The Crossing, Series Premiere, Monday, April 2, 10/9c, ABC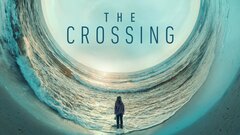 Powered by