5 Things We Learned From the 'A Series of Unfortunate Events' Season 2 Premiere
Things are about to get a lot worse for the orphaned Baudelaires as Season 2 of A Series of Unfortunate Events hits Netflix on Friday, March 30.
The story, based on the bestselling 13-book series written by Daniel Handler (pen name Lemony Snicket), follows the tumultuous journey of three orphaned children as the events in their lives grow more and more sinister. Count Olaf (Neil Patrick Harris), an eccentric and mysterious man, is after their fortune, and he chases them from one guardian to the next, adding to their misery.
See Also
Louis Hynes, aka Klaus, previews the kids' battle with Count Olaf (Neil Patrick Harris) and more.
TV Insider hit up the premiere in New York City to get some intel out of the cast about what's going down in the second season and the new characters we'll meet. Here's what we found out.
The Baudelaires Make Some New Friends…
In the very first episode of Season 2, viewers will run into a pair of orphans with a somewhat-similar story to the Baudelaires: Isadora and Duncan Quagmire (played by Avi Lake and Dylan Kingwell, respectively) who appear in five episodes this season and will also appear in Season 3.
"Duncan and Isadora take the Baudelaires under their wing," Kingwell says. "It's refreshing for the Baudelaires because 99 percent of the characters they come across have been evil or don't have good intentions. Duncan and Isadora are very close. They rely on each other. I think that's what makes the Quagmires such good fits as friends for the Baudelaires, because they understand what they're going through."
…And a New Enemy
Carmelita Spats (Kitana Turnbull) is "a treacherous villain who is also adorable at the same time. She taunts the Baudelaires at the Prufrock Preparatory School." And that's not all! Turnbull says she'll be showing up even more in Season 3.
…And a New Guardian
Esme Squalor (Lucy Punch) joins Season 2 as the Baudelaires latest guardian. As Punch says, Esme is "a very rich, pretentious socialite who lives in a fabulous home and is very over-the-top. She has a rather sad, put-upon husband who she doesn't have a lot of time for. And [the kids are] a little suspicious of me." Well, they're probably right to be suspicious because as Punch says. "If it seems like something good is going to happen, it's swiftly followed by misery."
See Also
The pics also show a few new members of the cast for the new season, which launches in Spring 2018.
Count Olaf Is Getting Desperate…
If you thought things were bleak for the orphans in Season 1 as they attempted to evade the treacherous Count Olaf, it's only going to get worse from there, according to Harris. "As everything progresses, Olaf gets more and more desperate because his plans aren't coming to fruition, so we're right in the middle of the journey," he explains. "He's in panic mode more than he was in the beginning. His plans are being foiled left, right and center, so he's swinging for the rafters now." Yikes.
…As His Disguises Get Wilder
The amount of time Harris spends in the costume and makeup chair make for a plethora of wacky ensembles. You can expect much more of that in Season 2. "He runs the gamut this season," Harris says. "There's a turbaned gym coach, a logger auctioneer, a disturbed and deranged surgeon, and even a super-hipster detective in a small town. But it's hard to not love being the ringmaster in a circus, because when it's Count Olaf's circus, it's very macabre."
A Series of Unfortunate Events, Streaming Now, Netflix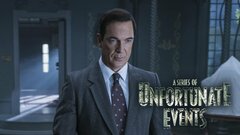 Powered by