'Blue Bloods' Star Vanessa Ray Teases Jamie and Eddie's Possible Romance
If Jamie Reagan (Will Estes) and Eddie Janko (Vanessa Ray) weren't partners on the NYPD beat, they'd be partners in love on Blue Bloods.
So far, the dedicated cops have put their jobs ahead of their hearts, but that could change this week when Eddie gets shot while on duty.
See Also
Plus, 'How to Get Away With Murder' disappointment and 'The Alienist.'
Read on below as Ray gives us her take.
How bad is Eddie hurt?
Vanessa Ray: Let's just say I did a lot of research on what it's like to get shot, and after the adrenaline wears off, you start to feel the pain!
Will Jamie finally declare his feelings when he sees her in the hospital?
Jamie's a force under pressure. There's a reason Eddie feels safe with him. But it's not always easy for him to say what he feels. He says more with his actions.
See Also
The actor hints Danny will find closure later this season.
Will told me that Jamie and Eddie belong together. Do you agree?
Oh, did he? They're best friends. The love they have for each other is complicated. There are times that I think they should go for it and other times that I don't want them to risk ruining their friendship and careers.
The NYPD may not let them continue as partners if they're a couple. We'd miss their sparring.
I'd miss it too! Their partnership is so fun and so deep. Fingers crossed they can figure out a loophole.
Blue Bloods, Friday, April 6, 10/9c, CBS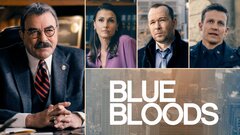 Powered by