Roush Review: Tracy Morgan's Triumphant Comeback in 'The Last O.G.'
What's better than a great comeback story? How about a terrific comeback comedy?
Tracy Morgan's The Last O.G. is a triumph of the never-say-die spirit, and delightfully funny to boot. "Second chances are beautiful things," preaches Tray (Morgan) as he's released from prison after 15 years, during which time he mastered some mad culinary skills. (Just ask for his "dessert loaf," which apparently tastes better than it looks and sounds.)
Morgan, rebounding from a nearly fatal 2014 car accident, takes full advantage of this second lease on comedic life, playing Tray with upbeat bluster as a man undaunted by adversity. Returning to a gentrified Brooklyn 'hood he no longer recognizes, Tray quickly discovers that his tight new suit is not going to help get him work as a gourmet chef, and ends up working at an overpriced coffee shop owned by the former drug-runner (Malik Yoba) he took the fall for. Moving past frustration, Tray sees only possibility—and that includes the wooing of his ex, Shay (the sensational Tiffany Haddish). She's moved on up (in Jeffersons parlance) as a posh fundraiser, now calling herself Shannon, with a friendly if baffled white husband (Ryan Gaul, smartly avoiding any clichés of snooty villainy), raising twins she never told Tray about.
"Wherever you go, you bring chaos," Shay declares, shutting Tray down when he approaches her in public. Which doesn't stop him from merrily stalking her on one of those newfangled cell phones, or taking the skeptical twins on a "truth safari" to remind them of their roots. Over time, it's inevitable that Shay will warm to him, a process that starts later in the season at her mom's funeral, where her family welcomes Tray with more enthusiasm than they can muster for the daughter who got out.
For all of its broad and bawdy fish-out-of-Brooklyn slapstick—wait till you see a new side of Chrissy Metz (This Is Us) as a lusty prison groupie—The Last O.G. is disarmingly sweet. Whether trading barbs with Cedric the Entertainer as the jokester head of his halfway house or cajoling the clientele at his coffeehouse workplace, Morgan is a joy. Welcome back!
The Last O.G., Series Premiere, Tuesday, April 3, 10:30/9:30c, TBS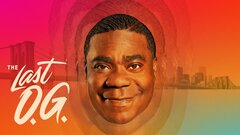 Powered by