'The Last O.G.' Trailer: Tracy Morgan Is an Ex-Con With a Heart of Gold (VIDEO)
"A second chance is a beautiful thing, ain't it?" says Tray (Tracy Morgan) in the new TBS sitcom The Last O.G.
That phrase carries extra weight for the comedian, who survived a horrendous six-vehicle crash in New Jersey in 2014, and is now making his long-awaited return to TV.
The Last O.G., follows Tray, who's been released from prison after 15 years. He returns to his hometown in Brooklyn, New York, to find the neighborhood isn't the only thing that's changed drastically.
Transformed by hipsters, Brooklyn hardly looks the same, much like former girlfriend Shay (Tiffany Haddish), who's now married to a successful white guy (Ryan Gaul). Together, they're raising Tray's twins, played Taylor Mosby and Dante Hoagland, who never even knew Tray existed.
Tray wants nothing more than to connect with his kids, so he must shape up in order be part of their lives, while also navigating a very strange city. And of course, hilarity ensues.
Watch the trailer below:
The Last O.G., Series Premiere, Tuesday, April 3, 10:30/9:30c, TBS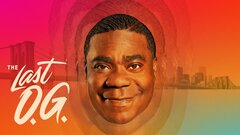 Powered by