Best Episodes Countdown #4: 'The Sopranos' — "Pine Barrens"
Check back with TV Insider daily as we countdown the 10 Best Episodes of the 21st Century, including picks from favorites like The Sopranos, Lost, Buffy the Vampire Slayer, and more.
It's all leading up to the top pick reveal on Tuesday, April 10. Stay tuned, and sound off on our choices in the comments below!
Season 3, Episode 11
Death. Sex. Ziti. Existential woe. The Sopranos had it all. And it was *$#%! funny.We still howl watching capo Paulie (Tony Sirico) and underling Christopher (Michael Imperioli) spend a cold, fruitless night in the Jersey woods hunting a Russian rival who just won't die.
They've got snow-soaked loafers and nary a clue, yet their comical travails still manage to deftly ask one of the drama's key philosophical questions: Is being a "made" man worth the trade-off—or is success simply chasing something you can never catch?
The Sopranos, Streaming now, HBO Go, Amazon Prime, Amazon Video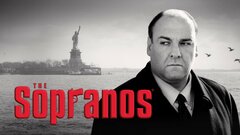 Powered by