James Franco and Maggie Gyllenhaal's Porn Drama Is Coming Soon to HBO
You kids may not remember, but New York City's Times Square in the 1970s and 1980s was skanky. Not people-dressed-as-ersatz-Disney-characters-trading-selfies-for-tips skanky.
Yes, we're talking about hookers as far as a john's eye can see. So, you can only imagine what the Times Square porn industry was like back then. But HBO is doing just that, focusing on the salacious subject in the upcoming series, The Deuce, from The Wire creator David Simon.
Already cast? James Franco, who will play real-life twins and porn impresarios Vincent and Frankie Martino, who also became fronts for the mob's control of the adult film world. Maggie Gyllenhaal will also make the rounds as the local prostitute who gets caught up in their dirty business.
The series will show the rise and fall of the porn industry, the rise of HIV and the destruction caused by cocaine addiction (among other topics).
RELATED: More About James Franco's Other Project, 11.22.63, for Hulu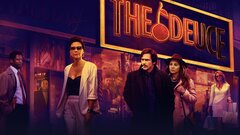 Powered by