'Rise' Stars Auli'i Cravalho & Damon J. Gillespie Tease the NBC Musical Drama (VIDEO)
Are you ready to Rise? Or, since the new NBC series comes from producers of Broadway smash, Hamilton, should we say Rise Up?
No matter what you say, the ambitious series with a healthy dose of music does something that usually seems to be a hit or miss in terms of scripted television. For every hit like Glee, there's a short-lived mess like Smash. And while time will tell where Rise falls, NBC is giving the series its best shot.
See Also
If the tears caused by this show were lemons, we'd have a lot of lemonade.
Created by Jason Katims—known for great TV character dramas like Friday Night Lights and Parenthood—the series follows small town teacher Lou Mazzuchelli (Josh Radnor), who takes on the local high school theater department. This is much to the chagrin of Rosie Perez's Tracey Wolfe, who feels she has more experience and determination.
Reflective of those who don't see the arts as important enough, the department faces financial struggles (the football team gets the fancy school board, for example) but Mazzu's decision to stage the controversial Spring Awakening, could either make or break the department.
See Also
'Rise' hits all the right notes as a musical drama.
Meanwhile, Lilette Suarez (Moana's Auli'i Cravalho), who has the voice but lacks experience, is cast in the lead of the musical. Mazzu then tries to get football star Robbie Thorne (Damon J. Gillespie) on board—and it helps that he and Lilette have a spark together on and off the stage.
Cravalho and Gillespie stopped by our video suite at the recent Television Critics Association winter press tour to talk about the show, which premieres Tuesday on NBC. See what they had to say about the show below:
Rise, Series Premiere, Tuesday, March 13, 10/9c, NBC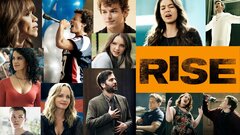 Powered by