'Goldbergs' Goes Indiana Jones, 'Hap and Leonard,' Hulu's 'Hard Sun,' a 'Chicago' Crossover
A selective critical checklist of notable Wednesday TV:
The Goldbergs (8/7c, ABC): In a very personal episode reflecting series creator Adam F. Goldberg's childhood dreams of becoming the next Steven Spielberg, this season's movie homage takes on Spielberg's Indiana Jones franchise, when young Adam (Sean Giambrone) decides to make his own Indiana Jones movie and soon learns the limits of his ambitions. In a parallel storyline, brother Barry (Troy Gentile) embarks on his own heroic quest, to discover the best cheesesteak hoagie.
See Also
New installment of the SundanceTV hit is based on 'The Two-Bear Mambo,' the third in Joe R. Lansdale's book series.
Hap and Leonard: The Two-Bear Mambo (SundanceTV, 10/9c): This rambunctious series derived from Joe R. Lansdale's entertaining novels brings back one of my favorite buddy teams: East Texas good-ol'-boy Hap Collins (James Purefoy) and gay Vietnam vet Leonard Pine (Michael Kenneth Williams). They're once again neck-deep in violent regional intrigue as they go in search of Leonard's lawyer, Florida Grange (Tiffany Mack), in a Klan-infested town. Co-stars this season include Louis Gossett Jr., Corbin Bernsen, Andrew Dick Clay and musician Curtis Harding.
Hard Sun (streaming on Hulu): This six-part BBC coproduction from Luther's Neil Cross introduces a new thriller genre: Apocalypse Noir. The mayhem begins when London detectives Charlie Hicks (Jim Sturgess) and Elaine Renko (Agyness Deyn) happen across a flash drive predicting an "extinction event" code-named Hard Sun. Though discredited by the government, shady MI5 agents are desperate to take control of the flash drive, while news of the world ending triggers a wave of terrifying mad murderers. Deyn is a true discovery, evoking an elfin Annette Bening by way of The Avengers' kickass Emma Peel. If anyone can save the world, she can.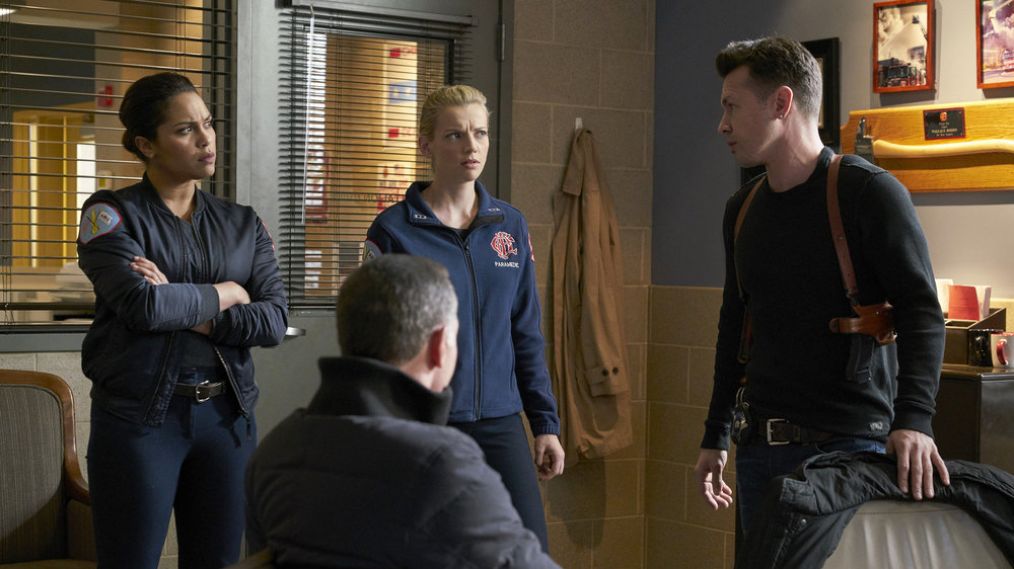 See Also
Dawson and Brett go undercover in this two-hour NBC TV event.
Chicago PD (10/9c, NBC): In its 100th episode, the Chicago Fire spinoff begins yet another crossover two-parter, concluding on Thursday's episode of Fire. The Intelligence unit needs the help of Firehouse 51 as they investigate a series of bombings targeting members of the media.
Inside Wednesday TV: Madam Secretary, which is finally returning from a two-month hiatus this Sunday on CBS, begins a syndicated run on WE TV, with a nine-hour binge beginning at 7 pm/6c. (In future weeks, it will air on Wednesdays with day-long marathons starting at 10 am/9c.) … Seems awfully early in the game, but CBS's Survivor (8/7c) shakes things up with a tribe swap. … The CW takes a break from superhero angst with the cloyingly cutesy new dramedy Life Sentence (9/8c), starring Pretty Little Liars' Lucy Hale as perky Stella, who for years thought she was dying, but then is miraculously cured. Her joy soon fades when she realizes her family and husband weren't exactly being truthful about their supposedly otherwise perfect lives. … Ovation salutes what is now an international musical sensation in Hamilton: One Shot to Broadway (10/9c), a documentary about the creation of Lin-Manuel Miranda's groundbreaking hip-hop historical masterpiece.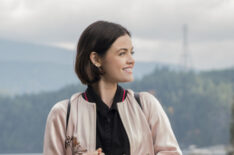 See Also
Quirky and upbeat like its star, the new dramedy is a far cry from Rosewood!