Sneak Peek: 'The Magicians' Go Musical Again and It's Glorious (VIDEO)
Even with its ongoing magic blackout, The Magicians has no shortage of tricks up its sleeve. This Wednesday features a musical episode that makes last season's "Les Mis" sequence look like community theater.
As they continue their Quest of the Seven Keys, a discovery transports Kady (Jade Tailor), Alice (Olivia Taylor Dudley), and Quentin (Jason Ralph) into a version of the Physical Kids cottage where some magic is somehow a thing about and music is essential to maintaining the "good vibes." How? Well, we don't want to spoil anything, but it has to do with who is holding the fifth key. (Get it? Fifth musical key?)
See Also
They may not be able to do card tricks, but Stella Maeve, Olivia Taylor Dudley and Jason Ralph have great answers up their sleeves.
In this exclusive clip from the episode's opening, the three witness the debut of a pot-toking Josh (Trevor Einhorn) as the King of Party O'Clock to Clooney's "Wham Bam." And while he is clearly enjoying the atmosphere in this kushed-out new world, don't expect his buzz to last too long.
Turns out he has some harsh feelings for Q and company and before the hour is over, the entire Brakebills team will be under pressure to find a way to unite, no matter what realm they're in.
The Magicians, Wednesdays, 9/8c, Syfy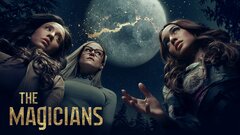 Powered by