How Was Jimmy Kimmel's Oscars Monologue? His Best Lines About #MeToo, Trump & More (VIDEO)
It is a landmark year for the Oscars with the 90th anniversary, and with all of social movements happening right now, it's no surprise the event would get political.
Jimmy Kimmel hosted for the second year in a row, and he kept things light for the most part. The late-night star began the evening by broaching the Best Picture controversy that took place last year, saying, "This year when you hear your name called, don't get up right away. Give us a minute, we don't want another thing."
See Also
Here's everyone who has taken home an Academy Awards tonight.
Of course, he had to address the sexual harassment and misconduct in Hollywood that has come to light in the past year. To that note, Kimmel highlighted the reasons behind why Oscar must be the "most beloved man in Hollywood," quipping, "He keeps his hands where you can see him, never says a rude word, and most importantly, no penis at all. He's literally a statue of limitations."
Also, pointing out how Hollywood has made poor decisions regarding women in the past, Kimmel also joked, "We made a movie called What Women Want and it starred Mel Gibson…"
In spite of Hollywood's past mistakes, Kimmel made it clear that the goal is to move forward, calling it a "night for positivity." Highlighting the accomplishments of nominees, he zinged, "If you are a nominee tonight who isn't making history, shame on you." Which is actually true with nominees like Jordan Peele and Greta Gerwig as Oscar first-timers.
See Also
The TV personality hosted the red carpet, despite recent sexual misconduct allegations.
The host didn't address the Kevin Spacey controversy surrounding All the Money in the World, but he did bring up the pay discrepancy between the film's stars Mark Wahlberg and Michelle Williams. Wahlberg had been paid over $1 million, whereas Williams was paid $80 a day for their reshoots after Spacey's removal. Wahlberg later donated his pay to the Time's Up movement, to which Kimmel asked aloud, "So I guess the ball is in your court, Michelle. What're you going to do with that $80?" Ha!
When it came time to address the nominees directly, Kimmel mentioned to Peele that, "None other than President Trump called Get Out the best first 3/4 of a movie this year." An obvious jab at the president, but it was the host's remarks about the film Call Me by Your Name which really took aim at the White House. "We don't make movies like Call Me by Your Name for money, we make them to upset Mike Pence," he said about the vice president while addressing the film's star Timothée Chalamet.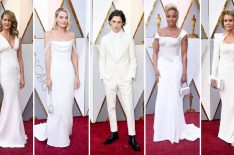 See Also
Click through the gallery to see what Hollywood's top stars are wearing.
Don't think that I, Tonya star, Margot Robbie was immune to Kimmel's monologue either, as the host asked the star, "Whose kneecaps did Tonya Harding have to knock out for that dream casting?" He also hilariously asked the evening's oldest nominee Christopher Plummer, "How does Lin Manuel Miranda compare to the real Alexander Hamilton?"
In his closing statements, he asked viewers to join the March for Life protest against gun violence in schools, and then threw it to Helen Mirren posing as a "Barker Beauty" as she presented a jet ski as Kimmel's prize for the evening's shortest speech.
So how do you think Kimmel did? Let us know in the poll below.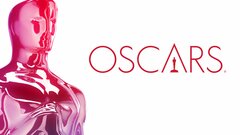 Powered by