Paramount Network's Delayed 'Heathers' Series to Air With Edits
Four months ago Paramount Network shelved its controversial rebooted Heathers series but now the show is finally premiering.
Based on the cult movie, the series tackles high schoolers dealing with bullying, suicide, murder, and violence and was too graphic to air as it originally was, so the network made some edits before relaunching.
Those changes include: the last two episodes were combined to create a cliffhanger and in Episode 5, the content in a first person video game was changed. Enough scenes were cut to bring the episode count down to 9 from 10.
See Also
The series based on the cult classic will hit the soon-to-launch Paramount Network next year.
The show was originally slated to air in March 2018 but the network decided to delay the show out of respect to the victims, families, and those affected by the mass shooting at Marjorie Stoneman Douglas High School in Parkland, FL, during which 17 lives were taken.
It was then slated to bow this past summer, but the network ultimately announced it was shelving the series. Until now.
Heathers is dropping its first two episodes on October 25. Two new episodes will air for five nights straight until October 29. The cliffhanger finale will lead into the premiere of Lip Sync Battle with Heathers actors Melanie Field (Heather Chandler) and Brendan Scannell (Heather Duke).
See Also
And the network orders a new dramedy series from Darren Star.
For fans who prefer to stream, all nine episodes will be available on Paramount Network's app/website on October 22.
"I am beyond excited that American audiences will finally get to see Heathers," said showrunner Jason Micallef.
"Obviously, I wish fans could see the tenth episode, but the producers and I felt strongly about not changing anything in it, and so, it's been considered too controversial for U.S. audiences. Still, every day at this job is a delightful dream so it's hard to complain. Plus, what matters most is fans will now get to see the satire we all love so much."
Check out the new trailer featuring guest star Shannen Doherty below:
Heathers, Series Premiere, Thursday, October 25, Paramount Network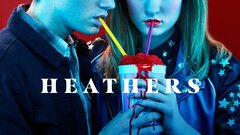 Powered by