Jimmy Kimmel's Emotional Plea to Trump After Florida Shooting: 'Do Something' (VIDEO)
Late-night host Jimmy Kimmel used his opening monologue during his show Thursday to address the mass shooting that took place at a Parkland, Florida high school this week.
On Wednesday, February 14, a former student used an assault weapon to kill 17 teens and adults and injure dozens more in what is the 30th mass shooting of 2018—and we're in February.
"I'm sure you know and feel—this is another very sad day in America. Another senseless shooting," Kimmel began, while holding back tears. He then played a clip from President Trump's speech addressing the tragedy.
In his speech, Trump said kids and adults in school should never be in danger and emphasized "no parent should ever have to fear for their sons and daughters when they kiss them goodbye in the morning."
Kimmel said he agreed with Trump's statement, but then emphasized that the president and Congress need to actually do something instead of sending thoughts and prayers. "Tell your buddies in Congress—tell Paul Ryan, Mitch McConnell, Marco Rubio—all the family men who care so much about their communities, that what we need are laws," Kimmel pleaded. "Real laws that do everything possible to keep assault rifles out of the hands of people who are going to shoot our kids. Go on TV and tell them to do that."
He continued, "Tell these congressmen and lobbyists who infest that swamp you said you were going to drain, force these allegedly Christian men and women—who stuff their pockets with money from the NRA year after year—to do something now, not later."
"Children are being murdered," Kimmel finished through tears. "Do something."
In the past year, Kimmel has been particularly outspoken on issues such as gun control and health care reform, continuously calling out Trump and lawmakers for their lack of initiative and poor policy decisions.
Watch Kimmel's monologue below:
Jimmy Kimmel Live, Weeknights, 11:35/10:35c, ABC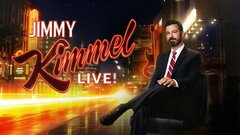 Powered by