'Mistress Hunter': Lauralee Bell Is Ready for Some Payback in Lifetime Movie
Lauralee Bell has spent decades starring on The Young and the Restless, so kidnappings and stalking are par for the course. No doubt, those campy soap staples were valuable prep for the actress when it came to her new Lifetime movie.
Daytime Emmy-winner Bell plays married mom Jackie Blanchard, who thinks she has a perfect relationship…until she discovers her husband (Martin Copping) is having an affair. "She wants to give him a little stress and payback," Bell explained. So Jackie hires a mistress hunter (Lydia Look), a type of private investigator who specializes in toying with philandering men and their side pieces. Things go too far, however, and two people end up dead. But, remember, this is Lifetime, so expect lighter moments to balance out all the murder and mayhem. "There are touches of humor," Bell promised. "Jackie dresses up in little outfits to help the mistress hunter. It's super fun."
See Also
See everyone in costume.
For all the high-drama and intense situations, the film is also reflective of strong women taking action. "I loved that there were girlfriends," Bell explained. "I like that in this time it was very empowering that the women took charge. There's obviously some things that take the story to another level but I just loved that there was just a strong female cast. Here's a dilemma and the girlfriends are helping you through and then you reach out to another woman who's basically saying, 'I can help you through this. You can stay strong. There is life at the end of this.' I loved that."
While Jackie has discovered her husband is a cheater in the opening moments of the film, Bell sees how she may have missed some telling red flags. "When you have especially young children, you become so focused on getting them through the day that sometimes you do put your marriage second," she said. "It's not a wise choice because a strong parent equals a strong family but sometimes you can't help it."
The hijinks, twists and turns here are reminiscent of the big made-for-television event movies of years past (think 1996's Mother, May I Sleep With Danger starring Tori Spelling). "Growing up, I couldn't wait for the movies of the week," she admitted. "You knew you could just decompress."
But, all fun aside, what's the real message of the film? "It's definitely a lesson for people who are thinking of fooling around on their spouse," she explained. "I would say it's mostly entertainment but I think it always it nice to remind people. But, in this film, for Jackie's husband cheating, he was just asking for trouble. I just think he's a foolish man."
As for her day job on Y&R, what can we expect moving forward? "We have our huge 45th anniversary coming up," she said. "We're bringing back some people from the past and it's going to be a very big week (starting March 26) to celebrate. I'm thrilled to obviously be a part of that!"
Watch the trailer below:
Mistress Hunter, Movie Premiere, Friday, March 16, 8/7c, Lifetime Movies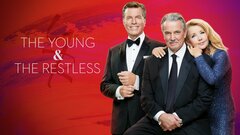 Powered by