Bethenny Frankel & Fredrik Eklund on How They Make Their New Show Work
Ah, synergy. Back in 2016, Bethenny Frankel (The Real Housewives of New York City) enlisted fellow reality star Fredrik Eklund of Million Dollar Listing New York to help sell her Tribeca loft, and—presto!—they had $6.95 million and just as many new reasons to be friends. Now, they're pairing up for their own series, Bethenny & Fredrik, which will document the Skinnygirl founder and Swedish power broker as they enter into a joint real estate venture. But will their partnership prove to be a match made in Bravo heaven—or a combo from hell?
Given your dynamic personalities—and shared passion for high-end Manhattan property—this show seems like a no-brainer…
Frankel: It sounded like easy, low-hanging fruit, because we already had a relationship with Bravo and we had been talking about going in on some deals together. I said, "It's Will & Grace with real estate as a backdrop!"
Eklund: I remember we went to look at this strange apartment that had urinals in it. We were pretending to be peeing in them and were like, "Why aren't there cameras here?" Moments like that kept happening, and we're such insane idiots, it was too good to not be captured.
So has the collaboration been all that you hoped for?
Eklund: I thought I knew what this was going to be, and it turned out to be very, very different. Over the course of filming, things evolved and got very uncomfortable. I'm used to being in control, but this felt like walking in the dark. We didn't even speak for a while—what was it, a month?
Frankel: It was gnarly. I can get crazy. He can get crazy. We were very triggered. Coming from Million Dollar Listing, Fredrik didn't know what he was getting himself into. He was in this perfect polished position. I'm already on a train-wreck show where everyone gets drunk and argues, so he had far more to lose. When we began this, he said, "Nothing dramatic is going to happen." Well, we overshot the mark!
Bethenny & Fredrik, Series Premiere, Tuesday, Feb. 6, 10/9c, Bravo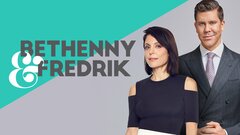 Powered by