'Here and Now' Takes Family Dysfunction to a Whole New Level
In the market for a family drama that illustrates life's many little ups and downs? Then keep movin', because Here and Now probably isn't for you.
The new HBO series from creator Alan Ball (Six Feet Under) will be hunting far bigger game, taking aim at themes like racial identity, mysticism and the collapse of modern civilization.
At its heart: the Bayer-Boatwright clan. Dad Greg (Tim Robbins) and mom Audrey (Holly Hunter) are paragons of progressive thinking. They adopted three of their now-adult kids, including Raymond Lee's Duc and Jerrika Hinton's Ashley, from other countries—see how woke these parents are?—rounding out the litter with 17-year-old biological daughter Kristen (Sosie Bacon), the brood's self-proclaimed boring white chick. "This looks like a great, noble experiment of a nontraditional family," Ball says. "But once you start peeling back the onion layers, nothing is as it seems."
And how. In the pilot, we learn that Greg has been having an affair with a call girl and witness Kristen don a horse-head mask, then lose her virginity to a male model. (Not so boring after all.) But that's small potatoes compared to what's afoot for 22-year-old gay son Ramon (Daniel Zovatto), who suddenly begins experiencing strange visions. Says Ball, "One of our ongoing questions will be, 'What is sanity?'"
Surely, some counseling from Dr. Farid Shokrani (Peter Macdissi) can help—except that the two men discover their psyches are mysteriously interconnected. (Dr. Shokrani's mother appears in Ramon's dreamscape.) "It's going to be rocky," Ball says. "The show looks at the larger picture of where we fit in as spiritual beings in this decidedly brutal, vicious, nonspiritual time." In other words: Don't hold your breath for the group hug over a Sunday pot roast.
Here and Now, Series Premiere, Sunday, Feb. 11, 9/8c, HBO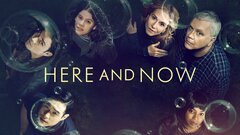 Powered by