What's On: 'Top Chef' Restaurant Wars, NFL Stars Moonlight for 'MVP' Title, 'Drag Race' All-Stars
A selective critical checklist of notable Thursday TV:
Top Chef (10:15/9:15c, Bravo): Always a highlight of any Top Chef season, the remaining chefs square off in Restaurant Wars, opening pop-up eateries and preparing menus—this time with a third menu option for each course—in the time it usually takes most of us to decide on making a reservation. The pressure is intense, including who works front of house and who manages the line—and of course, who prepares the infamous dessert course. The judges are joined by Blue Ribbon's Bruce and Eric Bromberg to decide which team wins and which will have to send someone to the Last Chance Kitchen.
MVP: Most Valuable Performer (8/7c, CBS): NBC may have the Super Bowl this year, but for those who didn't make it to the Big Game, CBS is giving benched players a chance to moonlight in an interactive talent-competition special, showing off their gifts from beyond the field of play. The roster includes three from the Baltimore Ravens: defensive tackle Brandon Williams tackling a song in his heart, while placekicker Justin Tucker shows off his opera pipes and running back Alex Collins channels Riverdance with some Irish dancing moves. They'll face Panthers running back Jonathan Stewart at the piano, Browns guard Kevin Zeitler with some dog tricks, and Broncos nose tackle Domata Peko on the guitar. LL Cool J hosts, and judges include Scorpion and American Idol alum Katharine McPhee, Superior Donuts comedian Maz Jobrani and Giants wide receiver and TV analyst Brandon Marshall. Sharon Osbourne will play mentor, while the viewing public can vote among the three finalists for the MVP title. Could a halftime performance be in their future?
RuPaul's Drag Race: All Stars (8/7c, VH1): Just because they sashayed away once before—or in the case of Shangela, twice—there's always room on the runway for a comeback story. And so, in the third all-star edition of TV's most proudly fabulous competition series, RuPaul and a campy coterie of celebrity judges welcome back the likes of Aja, BenDeLaCreme, Chi Chi DeVayne, Kennedy Davenport, Milk, Morgan McMichaels, Thorgy Thor, Trixie Mattel and the aforementioned Shangela. May the best queen win—and how sad am I that neither The Crown's Claire Foy or Victoria's Jenna Coleman appear to be on the guest list.
Inside Thursday TV: In the penultimate episode of NBC's The Good Place (8:30/7:30c) before it ends its second season, it looks like there will be hell to pay when Michael (Ted Danson) faces the music over his alliance with Team Cockroach. … ABC's Scandal (9/8c) promises to tell all that happened to Quinn (Katie Lowes) while imprisoned in Papa Pope's (Joe Mortan) basement. We've now seen the baby, but did Mama Gladiator survive? … NBC's Great News (9:30/8:30c) wraps its second season on a cliffhanger, with the return of Tina Fey as manipulative mogul Diana St. Tropez, who delivers an ultimatum that could mean the end of anchorman Chuck's (John Michael Higgins) newscasting career.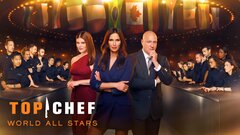 Powered by