Anna Paquin Explores 'Darkness' in Her New WGN Drama 'Bellevue'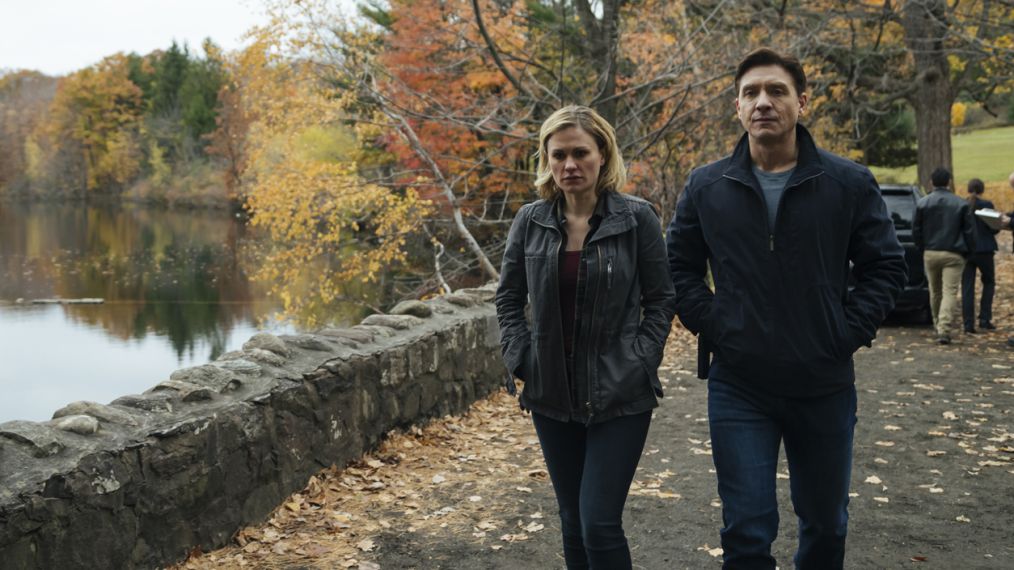 A self-professed "annoyingly law-abiding person," Anna Paquin does have one vice: bingeing on crime dramas. "I devour them," says the former True Blood star. "The exploration of darkness appeals to me." So she'd likely watch Bellevue even if she weren't the lead. On the WGN series, Paquin's Det. Annie Ryder searches for transgender teen Jesse (Sadie O'Neil), who has disappeared from a small conservative town.
During her investigation, Annie uncovers some Bellevue residents' surprising secrets as she tries to keep a lid on a few of her own. The Oscar-winning actress reveals a bit more.
TV Insider: What is it about crime dramas that you love so much?
Anna Paquin: It's one of those things where I've always loved cop shows and I've always loved horror shows. I think it is just something about the exploration of darkness that appeals to me on some level, which I can't really explain. I'm almost an annoyingly law abiding person, I am the driver that puts my indicator on to turn into my own driveway on my back alley even though there will be no cars. But I think I also like the procedurals that are not necessarily as well thought out. I like all of them. I watch all of them.
How would you describe Bellevue?
It is ultimately just a human drama. Any genre for entertainment is just a kicking off point to give a context for telling stories about people and the way the people interact, how they process their own lives, how they process grief, how they process trauma, love, hate, friendship. It is all just telling human stories. And for entertainment you usually need a catalyst of some sort be that a comic book thing or a vampire thing or a werewolf thing or crime. If you want to dig under the layers, human drama has beauty and ugliness.
Tell us about Annie.
She is the girl from the small town that doesn't really buy into the small town values or close-mindedness. So she doesn't see Jessie as being other than, "Oh that is a teenager going through a transition into becoming who they really are. What is your f***ing problem with that? Let her be." And that is not the view that most of the town has because Jessie is the male hockey star who has this fame aspect and people don't like change. People don't like having their heroes not look the way they want them to. Getting to see who people really are underneath the front. We obviously see bits and pieces of Jessie in flashback but as we get to know Jessie more and more, there is a point for her when she is just like, "I can't keep pretending to be someone who I am fundamentally not."
Annie has a troubled past and a complicated relationship with her ex, Eddie (Allen Leech). They share a daughter but aren't together. Why?
They are deeply in love and probably always will be, but they should not be together because they're quite toxic. There are a series of events that lead up to him saying, "I will love you until the day I die, but I do not want our daughter to end up like you."
In this case, Annie is force to revisit her past but she really keeps it to herself instead of leaning on those around her. Why?
She doesn't share information with other people that might she thinks might make them want to stop her. It is this that thing of, "If I tell people who care about me that I'm delving back into this thing that messed me up when I was a kid, for my own good they are going to try to stop me and I don't want you to stop me." It is self-destructive behavior of a very classic variety where it is like, " I am going to push away the people who will prevent me from making bad choices right now because on some level this is a process that I kind of need to go through."
Were you looking for a role like this now?
It was on my checklist of things. Like, at some point, I am going to find that awesome lady cop role.
You're also an executive producer on the show. How do you balance that part of the job?
Honestly I never really felt like there is a difference. I'm a very hands-on actor and I've always been the person who actually reads the call sheet and actually wants to know what we're doing and what the shoots are and what the setups are. I like details that is where my brain goes. So I'm not really that different when I'm on a movie where we have absolutely no official say whatsoever. I just think that when you have an actor that is emotionally involved in a project we are a good resource to utilize as far as being just another set of eyes and ears. I've grown up doing this; I think it is just in my DNA at this point.
Here's a preview of Bellevue, focusing on Annie and Eddie's relationship:
Bellevue, Series Premiere, Tuesday, Jan. 23, 10/9c, WGN America