Scene Stealer: Nathan Lee Graham Soars in 'LA to Vegas'
Fox's hilarious new comedy, LA to Vegas, follows the antics of the crew and passengers of a low-cost airline's route between the City of Angels and Sin City. The party in the skies comes courtesy of the comedy team of Will Ferrell and Adam McKay, who serve as executive producers of the series along with Unbreakable Kimmy Schmidt's Lon Zimmet and Modern Family co-creator Steven Levitan.
In q few short episodes, actor Nathan Lee Graham (Bernard) has emerged as the series' breakout star, whose snappy one-liners are almost as fantastic as his perfectly-arched brows. TV Insider caught up with the fab actor and he dished six inside scoops on himself and his character.
See Also
Check out the promo for the new episode that has a lot of fun with the two often-confused-for-each-other actors.
1. Nathan Lee Graham has worked with Will Ferrell before.
"I worked with Will Ferrell in Zoolander and Zoolander 2; I played Mugatu's assistant, Todd," he says. "When I got this role, I thought it was really special because it's wonderful to work with an actor who's now a producer of the project that is so good, and good for me to be in."
2. Graham wasn't the first choice for his role.
Even though it's hard to imagine anyone but Graham playing the role of smart and sassy flight attendant Bernard, the actor explains, "The part started off as a woman, as an older, Caucasian woman. Then it went to a younger Caucasian woman who was just going to recur, and then it went to a younger Latin man. His name was Emilio. As a matter of fact, when I got the role, it said, "Emilio," and then I flew out to do the table read, and then when I landed his name was "Bernard". That's the truth."
"I guess once they decided that the character was going to be this wonderful, bodacious sort of flamboyant-when-he-needs-to-be—but veteran—flight attendant, possibly gay, then it started to mold into what Nathan Lee Graham could do."
3. He thinks flight attendants are like actors.
Graham explains, "I think the best flight attendants notice people's energies and connect with them. They can tell if someone's not feeling well, or if someone's going through something. It's the same as acting. You have to immediately connect with folks, right away, on whatever level." He adds, "It's probably why Bernard is so easy for me to connect with."
4. About those brows…
Graham jokes that he needs to get his bangin' brows insured, and thanks genetics for his strong eyebrow game. "My father has the same eyebrows. It's hereditary. It's just that he doesn't have his manicured."
5. He's a Broadway star who still gets starstruck.
The outspoken charmer reveals he once had a close encounter with Sophia Loren, which left him at a loss for words. He recalls, "I was doing the national tour of Showboat in Los Angeles at the Ahmanson [Theatre], and Cloris Leachman was one of our leads. Cloris was a dear friend of Sophia Loren's and Sophia was doing Grumpier Old Men 2 with Jack Lemmon and Walter Matthau. Fun fact: I did my first film with Walter Matthau, The Bad News Bears, back in the 70's, 'cause I'm old. But that's another story, okay?"
He continues, "So when I met Sophia Loren, I believe she was wearing a Diane von Furstenberg black wrap dress and she had on her big Foster Grant glasses. And she hugged me tightly and I remember my face, my head, going into her bosom, and I just sniffed. And she smelled like everything wonderful on earth."
6. He loves being the center of attention.
"My motto is, 'everyone has their turn,' so you're supposed to show up and do it, make it happen." But Graham leans in close and adds with a conspiratory laugh, "Then my real motto in life as an actor is, "I never want to star in anything, I just want to steal it!"
LA to Vegas, Tuesdays, 9/8c, Fox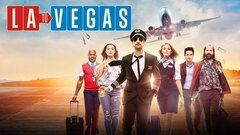 Powered by