Dylan McDermott Flies High in the New Fox Comedy 'LA to Vegas'
Small seats. No legroom. Long delays. Flying the friendly skies is rarely fun, but LA to Vegas is pure mile-high merriment. The wacky workplace sitcom goes above the clouds with the crew and passengers of fictional Jackpot Airlines and its weekend La-La Land to Sin City trek. "I describe it as halfway between Taxi and Airplane!" says executive producer Steve Levitan (Modern Family).
At the controls of the jet: Capt. Dave Pratman (Dylan McDermott, above), a corny, mustachioed wannabe ladies' man. McDermott takes us inside the cockpit.
See Also
The high-flying new series debuts Jan. 2.
You're known for dramas like The Practice. How'd you get into this comedy?
Dylan McDermott: I started my career doing stand-up in New York, but I got thrown out of a club for not being funny. Then when I was on The Practice I hosted Saturday Night Live and became friends with Will Ferrell [an executive producer on LA to Vegas]. When this show came along, I just knew in my heart I had to do the role.
How would you describe Captain Dave?
My theory is we all get stuck in the decade of our heyday. So if you want to know who anybody is, go in their closet. Captain Dave still has his square-toed shoes and wears his collar up on polo shirts. He's never bought new clothes, and that's OK with him.
Is he smooth when it comes to wooing women?
Perception is reality with him. He thinks he is, but maybe no one else does. That's why we love him—because he's not slick, even though he appears to be. He's also really vulnerable and broken, which is the best part about playing him.
Dave goofs off during flights. Is he a good pilot?
Let's just put it this way: He gets them there. That's really all you can ask, right?
What's the deal with Dave's 'stache? Was it your idea?
When I was reading the script, my facial hair was growing out. My mustache knew it belonged on the show before I did!
Here's the trailer for LA to Vegas:
LA to Vegas, Series Premiere, Tuesday, Jan. 2, 9/8c, Fox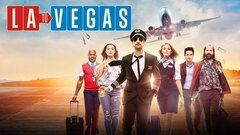 Powered by