'Mom': Anna Faris & Allison Janney Celebrate 100th Episode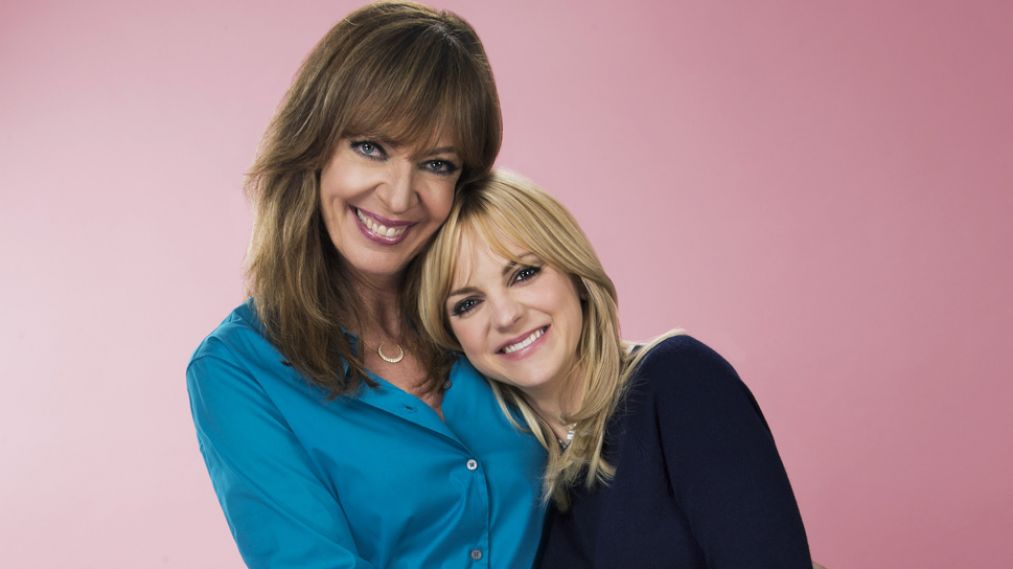 Raise a glass of nonalcoholic wine! The CBS comedy Mom—which mines laughter (and plenty of tears) from the highs and lows of living with addiction—is celebrating 100 episodes. And what a journey it's been.
Initially, the series explored the combative relationship between estranged mother-daughter duo Bonnie (Allison Janney) and Christy (Anna Faris) as they raised single mom Christy's two kids. But the show gradually shifted to focus less on nuclear-family dysfunction and more on Bonnie and Christy's support group family dysfunction, with both characters fighting to maintain their sobriety.
Over the years, Mom has been lauded by critics for its frank, often dark look at the recovery process, and Janney has won two Outstanding Supporting Actress Emmys. "It's really outgrown my initial idea of what I thought it could be," executive producer Chuck Lorre says.
See Also
The Broadway star will appear in an episode airing later this season.
Through it all, Janney and Faris have remained the show's emotional core. "They're masterful actresses, in both deeply dramatic moments and in over-the-top physical comedy moments," Lorre says. "They always make the material better than it is on the page. That's a gift, as a writer, to know if you pen a decent scene, it's going to be a great one when they're done."
Offscreen, the pair couldn't be closer. When they sat down with us to reflect on 100 episodes, they leaned on each other—literally and figuratively.
You're clearly close now, but what were your first impressions of one another?
Anna Faris: We have a bunch of mutual friends. Way before the show, Lance Bass and a few other people said, "Oh my God, you would love Allison Janney!"
Allison Janney: I knew Anna's work. I could tell from watching her performances that I'd have fun with her. Mostly because she takes risks. She's not afraid to make a fool of herself.
Faris: It's a part of my daily life!
Janney: Since then, we've had the time to build up a real relationship. Sometimes Bonnie and Christy seem like sisters, which is probably more truthful to what the dynamic is between us.
Faris: Are you going to write that we're holding hands right now? [Both laugh]
The show has evolved from one about a biological family into a show about addiction, recovery and the family you create when you're going through that. Were you involved in the change?
Janney: I never talked about it with the writers, but it just made sense. They saw what a powerful component [those themes] were. Recovery doesn't care who you are, it doesn't discriminate, and because of that you get characters played by [series regulars] Mimi Kennedy, Jaime Pressly and Beth Hall, so many interesting women who come into their lives. But I always love when the family stuff comes back in.
Faris: It's nice, this season, to have a little romance too. Bonnie's relationship with her boyfriend, Adam [William Fichtner], is amazing.
Janney: I do love that. And now Christy is with Adam's brother, Patrick, played by the brilliant Steven Weber.
See Also
'The Shape of Water' cleaned up and James Franco was snubbed.
And he factors into Episode 100, right?
Janney: Yes. Christy and Patrick are in a committed relationship—they're just having some trouble with the location part of it.
Faris: It's long-distance!
Janney: Christy is trying to make it work, and her car breaks down. So she can't get to Santa Cruz, where Patrick is.
Faris: I love how you took control of the question! Can you do this all day?
Janney: I'm speaking for Anna because she is exhausted and I need to take care of her! So her car breaks down, and it becomes a Planes, Trains and Automobiles episode.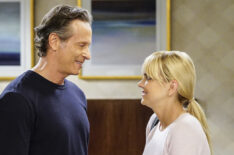 See Also
'It's impossible to keep their hands off each other,' says the actor.
Mom is clearly a situation comedy, but it doesn't shy away from heavy topics—death, cancer and relapse have all been explored. What is it like walking the line between comedy and drama?
Faris: I love that the writers have the courage to not back away from very meaningful storylines. For me, as an actor who's done so much comedy before, it's great to be able to explore these darker areas.
Janney: Humor is the only way to survive the things we go through. People come up to me with tears in their eyes, saying they have so many years of sobriety and how grateful they are to see something that illustrates how they live: with hope, dignity and laughter. [Faris nods in agreement]
Faris: The audience is very passionate about the show. I still get really nervous every Friday night before we walk out!
Janney: I do, too. That's a good sign. It shows you care about what you do. And I would be happy to do this show for many more years. One hundred more!
Mom, 100th episode, Thursday, Feb. 1, 9/8c, CBS