WATCH: David Letterman Scores Barack Obama as First Guest on Netflix Talk Show
David Letterman is returning to late night—and he's bringing some big names with him. In fact, the only thing that might overshadow the TV icon on his new Netflix series, My Next Guest Needs No Introduction with David Letterman, is his first guest: former President Barack Obama.
In 2015, Letterman signed off from The Late Show after more than three decades on the air. Two years later in August 2017, it was revealed that he would be launching a new show with the streaming network. Five months after that, we have an exciting first look at the show.
See Also
Smashed decanters, DIY suits and Stupid Pet Tricks marked his 33 years on the air
The January 12 premiere will mark the former president's first appearance on a television talk show since leaving office. He's just the first in a series of big names in store for the series with each episode focusing on "one extraordinary figure whom Dave finds fascinating." Other such individuals include George Clooney, Malala Yousafzai, Jay-Z, Tina Fey, and Howard Stern, will be interviewed both inside and outside of the typical studio setting.
In addition to these in-depth sit downs, My Next Guest Needs No Introduction will also feature field segments in which Letterman travels to both local and foreign locations. These segments will allow him to "dig deeper" into topics related to the guest featured in the episode.
New 1-hour episodes of the talk show are set to be released monthly.
This is the first time Letterman has led a series in over two years. The 70-year-old has made a few appearances on television during his hiatus, including one well-received 2016 episode of National Geographic Channel's Years of Living Dangerously in which he traveled to India to explore climate change and its impact on the real world.
Catch a first look at My Next Guest Needs No Introduction below:
My Next Guest Needs No Introduction, Series Premiere, Friday, Jan. 12, Netflix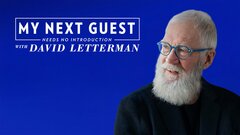 Powered by