2018 Preview: Resolve to Watch These 4 Quirky Comedies Returning in the New Year
As we say goodbye to 2017 and enter 2018, if you're looking for shows to keep you in stitches with outside-the-box humor, you're in luck. Plenty return this year.
Here are four notably quirky series you should check out:
High Maintenance This offbeat late-night series (Jan. 19, 11/10c, HBO) is sure to give you the giggles—and maybe a few other feels as well—thanks to its hilarious, occasionally tender peek into the lives of the oddball clients of a small-time New York weed dealer (Ben Sinclair).
Baskets It doesn't get much weirder than Baskets (Jan. 23, 10/9c, FX). In the comedy's third go-round, aspiring clown Chip (Zach Galifianakis) gets into the rodeo business with his twin brother (also played by Galifianakis) and mother (Emmy winner Louie Anderson).
The Detour For a truly wild ride, hop onboard The Detour (Jan. 23, 10:30/9:30c, TBS). Season 3 finds the catastrophe-prone Parker clan (Jason Jones and Natalie Zea play the bumbling parents) hiding from the law in Alaska, where they're sure to screw everything up. Again.
Schitt's Creek Eugene Levy, Catherine O'Hara and the gang are back as the down-on-their-luck Roses. The formerly wealthy family continues to make the best of things with their over-the-top antics in the tiny town of Schitt's Creek (Jan. 24, 8/7c, Pop). Abject poverty has never been funnier.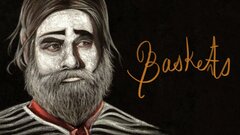 Baskets
where to stream