75 Years of Golden Globes Moments
Celebs are hobnobbing, the champagne is flowing—it's no wonder the Golden Globes have earned a reputation for being Hollywood's liveliest awards ceremony. In honor of the show's 75th anniversary, we look back at some of the Globes' best scene stealers. Trust us, there were plenty.
Unlike previous host Ricky Gervais, Tina Fey and Amy Poehler—who hosted three times (2013–2015)—excelled at jabbing but not offending in their sharp opening monologues. Example: "Gravity is the story of how George Clooney would rather float away into space and die than spend one more minute with a woman his own age," Fey joked in 2014. How about a return in 2019? Please?
See Also
The first round of announced presenters includes a large number of previous Golden Globe winners and nominees.
During 1958's show, members of the Hollywood Foreign Press Association (the voters who decide the winners) handed out the statues, and some members of the Rat Pack (Dean Martin, Sammy Davis Jr. and Frank Sinatra) were, well, bored. The group commandeered the stage and set the tone for stars to drive the broadcast.
There wasn't a dry eye when an emotional Ving Rhames, winning 1998's best actor in a miniseries for Don King: Only in America, thanked his fellow nominees. Then he did the unheard of, ushering to the stage category mate Jack Lemmon (12 Angry Men) and giving the legend his trophy.
Jack Nicholson is the epitome of Globes fun—even when he's trying to be sincere. In 1998, winning best actor in a comedy for As Good as it Gets, a gum-chewing Nicholson gave genuine thanks for the honor and then faux-mooned his fellow nominees, garnering some big laughs.
Nerves frayed During 2001's best drama film presentation when a confused Elizabeth Taylor opened the envelope before announcing the nominees. Exec producer Dick Clark thankfully helped her get back on track (Gladiator won).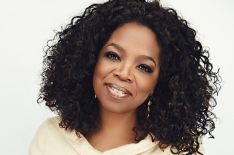 See Also
Watch the clip where Morgan Freeman makes the announcement about Oprah's award!
Actress turned humanitarian Audrey Hepburn kept her speech short when she received the Cecil B. DeMille award in 1990. She quickly rattled off the names of 34 directors and actors to thank, all in just 30 seconds!
"I was in the bathroom, Mom!" That's what Christine Lahti shouted after missing her name announced as the best TV drama actress in 1998. Before the Chicago Hope star made it from loo to stage, Robin Williams leaped to the mic and vamped until an embarrassed Lahti finally arrived.
75th Annual Golden Globes Awards, Sunday, Jan. 7, 8/7c, NBC