'Supergirl': More Scoop About the New Casting, Plus a Top-Secret Project
National City is going to be hopping in the second half of Supergirl's freshman year, with former Smallville Supergirl Laura Vandervoort flying into the role of Indigo, a sentient supercomputer that has downloaded onto Earth after wreaking havoc on the now-destroyed Krypton. "I don't know how much I can tell you," executive producer Ali Adler hedged to TV Insider, following a powwow with members of the Television Critics Association gathered on the show's Department of Extra-Normal Operations (DEO) set. "But she is coming to shake things up."
In addition to the arrival of the former Fort Rozz prisoner (set for episode 15), the producers revealed that episode 13 is a spin on the 1985 Superman comic For The Man Who Has Everything that will find a comatose Kara (Melissa Benoist) dreaming of a world where Krypton still exists. Plus, Supergirl would also be tangling with the Master Jailer (played by Young & the Restless vet Jeff Branson), a one-time Fort Rozz guard who is now hellbent on catching the alien-prison escapees running amok on Earth.
Both Vandervoort and Branson's characters have deep roots in the DC Comics world: Indigo has been a member of the superteam The Outsiders, while the Master Jailer made his first appearance in the comics as Clark Kent's high-school foe back in 1979.
Finally, executive producer Andrew Kreisberg revealed exclusively to us that the show's DEO would have a new problem to contend with closer to the end of the year. "We bring on Project Cadmus to Supergirl in episode 17," he stated, adding that the show's version of the anti-metahuman cabal-turned-genetic engineering organization (first introduced in the comics by guru Jack Kirby in 1970) was still taking shape. "How it's going to be personified, we're still not sure."
Well, we're sure that they'll figure out something clever to do with Cadmus. After all, the Project was heavily featured on the Emmy-nominated animated series Justice League Unlimited—which Kreisberg just so happens to have been a writer for during its 2001-06 run on the Cartoon Network.
Supergirl airs Mondays at 9/8c on CBS.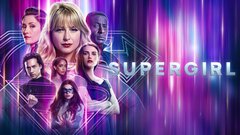 Powered by