5 Reasons to Look Forward to 'The 100' (Including New Survivors)
Season 3 of The CW's epic dystopian drama The 100 is a week away, and according to executive producer Jason Rothenberg, the survivors of the Ark spaceship who came down to Earth hoping to settle in a peaceful land are about to have their brave new world rocked yet again. Here are five things to expect for the series' return.
1. After the battle and massacre at Mount Weather that ended Season 2, the survivors' young leader, Clarke (Eliza Taylor), is not doing well. Distraught over her role in the deadly events, Clarke has gone underground. And slightly feral. "We find her three months later and she's had to survive out [in the world] by herself," says Rothenberg, who adds that the legend of "Clarke of the Sky People" has spread to other earthbound clans who may want to extinguish the mythical killer.
https://www.youtube.com/watch?v=PKUuukxrbrU
2. It's finally revealed what caused the nuclear Armageddon that sent Earth's residents up to the Ark in the first place. Look for A.L.I.E. (Erica Cerra), the artificial-intelligence hottie that former Ark chancellor Jaha (Isaiah Washington) met in the season finale, to factor heavily into that origin storyline.
3. Love may not keep fan-fave couple Linctavia together. Even though former Grounder warrior Lincoln (Ricky Whittle) has definitively aligned himself with the Ark survivors, Octavia (Marie Avgeropoulos) "is becoming more and more of a Grounder," Rothenberg says. And that's going to cause big problems for them.
PHOTOS: Get a Sneak Peek Behind the Scenes of The 100
4. Pop star Shawn Mendes croons in the premiere. The "Stitches" singer tweeted his love for the show to Rothenberg, who worked him into a scene that also introduces the Sky people's new bar-slash-garage hangout. They'll have time to hang out?
5. More survivors are coming. Rothenberg reveals they arrive "fairly early in the season" and that their hellacious experiences on the ground "will make those of our heroes look easy." Yikes!
The 100, Season premiere, Thursday, Jan. 21, 9/8c, The CW
[jwplatform 10Lae7Oy]
VIDEO: Stars of The 100 Tease More Sci-Fi, More A.I. in Season 3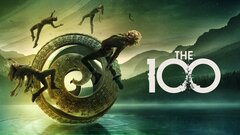 The 100
where to stream
Powered by