Colton Haynes Returns to 'Arrow'
It seems all roads lead back to Star City—including now, Colton Haynes' Roy Harper (a.k.a. Arsenal).
"We're thrilled to announce that Colton Haynes will be reprising his role as Roy Harper for a short arc on Arrow this year," declare executive producers Marc Guggenheim and Wendy Mericle in a just-released statement from The CW. "Roy is called back to Star City to help resolve an urgent matter with high stakes for the team. His short visit turns into something surprising when he reunites with Thea and sparks a change in both of their lives that will have long-lasting consequences."
Last seen on the show in 2016's "Unchained" episode, Haynes has been a busy boy, with appearances on Scream Queens, American Horror Story: Cult, Teen Wolf's final season and his own recent wedding to Four Seasons artistic director Jeff Leatham.
He is also working on the fitness-industry biopic Bigger, in which he stars as health guru Jack Lalanne. Of course, we have come to count on returns to Arrow—Katie Cassidy came back full time as Black Siren this season and Colin Donnell did a bit as the late Tommy Merlyn in the big Crisis on Earth-X crossover—so it's not so surprising to hear that the looker also known as Arsenal is on his way home. Star Stephen Amell even teased Haynes' possible guest stint earlier this week on his Facebook page.
What does have us intrigued, however, is this talk about Roy's reunion with Thea. With Willa Holland's reduced screen time this season, could it be the show's way of sending Ollie's little sister off into the sunset with her ex? Or could Roy's sudden presence in her life also spell the end of it? Guess we'll have to wait and see when Haynes makes his first appearance in the season's 15th episode early next year.
Arrow, Thursdays, 9/8c, The CW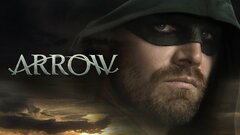 Arrow
where to stream
Powered by