WATCH: Ed Painfully Learns About Moclan Culture in 'The Orville' Season 1 Finale
Fox's Seth MacFarlane-led sci-fi series The Orville ends its first season on Thursday as one of fall's hits. When it was renewed for a second season last month, the network said that the series' premiere marked Fox's most-watched and highest-rated series launch since the 2015 debut of Empire—more than 14 million viewers watched across various platforms.
The Orville's Season 1 finale episode, "Mad Idolatry," features more of what viewers have tended to enjoy about the show—a mix of serious sci-fi drama a la Star Trek, with just enough bits of MacFarlane-esque humor. In the episode, Ed (MacFarlane) and Kelly (Adrianne Palicki) seriously reconsider getting back together. However, while Kelley is on a mission with Isaac (Mark Jackson) and Gordon (Scott Grimes) to investigate the origins of an uncharted star, they suddenly crash-land on a planet from another universe. Kelly then makes a decision with unforeseen long-term consequences for the planet, putting Ed in a difficult position.
See Also
The ship covers 25,000 square feet and spans two sound stages.
That's where some of the drama comes in. But in the exclusive clip below, you can also get a taste of the humor to come in the episode, as Ed may come to regret determining to connect with his Moclan crewmates Klyden and Bortus by seeking to learn more about their culture. First, he gets a taste of their wine-like drink, which has a pretty ominous-sounding (but "intensely pleasurable," Ed is promised) side-effect. And things only get more surreal from there when they teach Ed how to play Latchcomb, a "hot potato"-like game that is beloved on their home world.
Check it out:
The Orville: "Mad Idolatry" Season 1 finale, Fox, Thursday, Dec. 7, at 9/8c.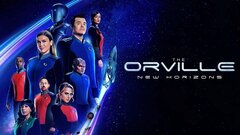 Powered by