'The Orville' Boldly Goes There With Gender-Reassignment Debate Episode (VIDEO)
If Seth MacFarlane's The Orville isn't already the new season's most divisive show—Is it a comedy? Dramedy? Space opera?—the Star Trek homage certainly will be on Thursday's episode when it moves into its regular night and time slot. Because the hour it's settling in with touches on several hot-button issues and doesn't present any easy answers.
In the episode, entitled "About a Girl," stoic Second Officer Bortus (Peter Macon) and his partner Klyden (Chad Coleman) become parents after the egg Bortus has been incubating hatches…only to find that their child has been born female.
As Moclans, a single-gender species, the pair are required by their home planet's rule to immediately subject the child to gender-reassignment in order to maintain their race's all-male purity. This triggers a ship-wide debate and interstellar court case over the child's rights and gender-versus-sex, while also testing the relationship between Bortus and Klyden, who are split as to how to proceed.
In this exclusive clip from the episode, Chief Medical Officer Claire Finn (Penny Johnson Jerald) reads Bortus for even asking her to operate on the newborn, and gives him a wake-up call regarding the Moclan way of life.
The Orville, Thursday, 9:01/8:01c, Fox.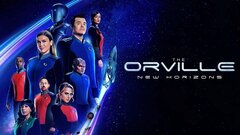 Powered by