What's On: Premieres of 'Knightfall' and 'Happy!' and Dian Fossey on National Geographic
A critical checklist of notable Wednesday TV:
Knightfall (10/9c, History): When they're not praying, they're slaying. So it goes with Knightfall, a historical companion piece to Vikings with an odd mix of piety and savagery that fails to distinguish itself from any middling Middle Ages melodrama that has come before. It's not quite a Knight-Fail, which might have been more fun to watch. (And yes, I still miss the musical Galavant.) Tom Cullen, one of several Downton Abbey alums, is humorless Landry, master of the devout Knights Templar, a group desperate to find and retrieve the Holy Grail they lost. Julian Ovendon is the scheming adviser to the king of France, and Jim Carter (Mr Carson!) is a gossipy Pope Boniface VIII. If History's superior Vikings doesn't slake your thirst for gore of yore, Knightfall offers plenty of slo-mo-enhanced swordfights and grisly murders to keep you going through the slower moments of this solemn 14th-century museum piece. Hokey as history, cheesy as spectacle, threadbare in its tapestry of sexual and political chicanery, Knightfall is a rather plodding and predictable game of thrones.
Happy! (10/9c, Syfy): If coal is your preferred stocking stuffer, this garish and ultraviolent black-comedy thriller based on Grant Morrison's graphic (in every sense) novel could be your favorite new Christmas treat. Christopher Meloni, who can always be counted on to commit fully to any character, is hilariously over-the-top as debauched ex-cop Nick Sax, whose tawdry career as a lethal louse of a hit man is giddily derailed when he starts having visions of a perky blue flying horse with a unicorn horn. This would be Happy (voiced by Patton Oswalt), a cut-rate Roger Rabbit who's the imaginary friend of a sweet little girl kidnapped by a horrific Bad Santa. She has sent Happy to fetch Sax to her rescue, but he keeps getting distracted by various sadists and brutal criminals in a murky plot involving a coveted password or some such. I have to admit, I was too busy cringing to pay much attention. Shows like this are obviously an acquired tastelessness, but Happy! is best recommended to those who can't get enough of Meloni chewing the scenery, however sordid.
Dian Fossey: Secrets in the Mist (9/8c, National Geographic Channel): The tragic history of the primatologist, who devoted her life to endangered Rwandan gorillas until her 1985 murder, is recalled in a three-part documentary series. Writings from Dion Fossey's journals are read by Sigourney Weaver, who was nominated for an Oscar and won a Golden Globe for her performance as Fossey in the 1988 movie Gorillas in the Mist. The new series follows Fossey's founding of the Karisoke Research Center in Rwanda in 1967 and her nearly two decades of studying and protecting the mountain gorilla population from deadly poachers, a crusade that presumably led to her death, still not definitively solved.
Inside Wednesday TV: New showrunner John Shiban (The X-Files, Supernatural) takes charge of the second season of Hulu's offbeat crime dramedy Shut Eye, starring Jeffrey Donovan and KaDee Strickland as con artists entangled in the lives of a gypsy crime family in Los Angeles. … Tears inevitably flow when loved ones visit the castaways on CBS's Survivor (8/7c), but the game never really lets up, and one player must snatch an immunity idol in plain sight. … NBC's Chicago PD (10/9c) takes on the opioid crisis, and Voight (Jason Beghe) discovers the source of the leaks. … The latest mash-up on CMT Crossroads (10/9c, CMT) is a doozy, putting pop star Kesha and Americana string band Old Crow Medicine Show on the same stage to collaborate on each other's hits.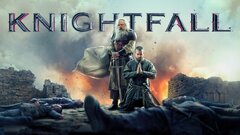 Powered by