Craig Ferguson Chooses to 'Join or Die' on Talk Shows
More than a year after leaving CBS's The Late Late Show, Craig Ferguson says his new History series, Join or Die, satisfies his talk-show itch.
"I wanted to do something that had a little more heft," he says. "Content that grabbed you, that was interesting to me in a discussion format as opposed to asking, 'Hi, where are you from? How long have you known George Clooney?'"
Join or Die follows a panel of celebrities and experts riffing on various topics from history, such as "most influential drug" and "biggest gangster in history."
RELATED: Your Guide to More Must-See Shows in February
Ferguson has already taped 20 episodes and would like to do more. "There are a lot of areas where it can go," he says. "I just don't want to make 220 shows a year anymore. Unless there's some kind of talk-show Viagra, I don't want to do it every day."
As for his Late Late Show successor, Ferguson gives James Corden high marks. "He's a sweet guy. He's very charming. He's a very smart performer and he's doing exactly what he needs to do, which is find the show that's his, not mine, not Craig Kilborn's, and not Tom Snyder's."
RELATED: Who Should Sing With James Corden Next for Carpool Karaoke?
TV Insider recently joined up with Ferguson to learn more about his new show.
You must have missed doing a monologue and interacting with a studio audience.
It's nice and also it's a little different. Really, the reason it came about is because of a show I was proudest of—for which I got the Peabody—a monologue about apartheid [where] the guest was Bishop Desmond Tutu. I feel that I have done a lot of frivolous stuff and I'm happy about it. I do this f–ing game show [Celebrity Name Game]. That's plain frivolous.
You always required your guests to think off the cuff. On Late Late Show, you famously tore up the questions and had honest conversations with guests. Some celebrities really rose to the occasion.
There's actually a vast amount of people in the public eye who could do that. One that springs to mind is Kristen Bell. Scarlett Johanssen. Ted Danson and Trace Atkins. It's a diverse group of people. People you expect, like Judd Apatow, who can hang. You would expect that. But there are other people you think, "We should see more of this person!" That was part of the guest pool idea for at least the first 22 shows.
You must have had fun picking topics for the show.
I didn't pick all of the topics, and some of them I disputed.
Which ones?
"History's Biggest Douchebag" I thought was too wide a category. It's a little douchey. I don't think we'll do that kind of thing again.
Because everyone's a douchebag?
Yeah, at certain points. But I don't like that as a category. I think that's one of the less successful shows. The more specific the category is, the more the conversation seems to be more stimulating to me. It helps if the category is more singular.
What were some of your favorite categories?
"Most Influential Drug" I thought was interesting. "Most Influential Rock Band." "Biggest Gangster in History," which I was delighted in, because Stalin was in there and I love that he was in gangster.
How did you settle on Join or Die for the title?
Because of this really [shows off tattoo on his arm, which reads "Join or Die"]. I got a tattoo in 2008 when I became a citizen. This is an awesome title and an awesome graphic. It has a double historical significance for me in the sense that it is the first graphic representation of the united colonies in the States and also, for me, it's the first graphic representation of me as an American. So it felt right. It felt like there was a bigger and more personal connection.
Join or Die hooks people in with a game show format, then gives them a little history lesson to boot.
What it's doing is taking a recognizable TV form and using it as a way to stimulate a discussion, where it's not a game. There's a lack of any value in winning this. You can't say I won "Best Dictator" and throw it on your resumé. There is no quantifiable point system other than the opinion of the people in the room.
Did any guest surprise you?
A lot of people surprised me. Not in the celebrity world, because I knew those people. I knew those people from Late Night. The people that surprised me tended to be the academics and the experts, some of whom who were very media friendly and very clever and very funny and witty and relaxed. That kind of thing surprised me more than the intelligence of the people who were booked because they were intelligent anyway.
Any chance some former Late Late Show partners might join you, like Geoff Peterson (the robot sidekick) or Secretariat?
I would never say never. I was very happy with all of those things, but this is a show with a slightly different atmosphere. Slightly different. I mean, I'm still me and I still talk the way I talk.
Would you like to do a larger number of episodes? If you tape three times a day you could conceivably do 50 a year.
You're leading the witness. I don't know. I don't know how many I want to do.
What about special episodes?
There are certain times of the year when it might be fun to do live versions. Maybe go to conventions and do biggest moment of the day, worst moment of the day, something like that. Or maybe a Super Bowl show, like best moment of the bowl, worst moment of the bowl. Greatest commercial, worst commercial. There's a lot of areas where it can go. I just don't want to make 220 shows a year anymore.
Have you kept up with the late night landscape?
From what I've seen, everyone is doing exactly what they need to do. You have to make the show your own. Some guys are moving faster than other guys and that's the way of the human race. Some are getting there quicker, but I think that every one of them, that I've seen certainly, is doing exactly the right thing, which is get the show and make it yours. There's a transition period where that's difficult. I remember going through it myself. The first year or so, people are just angry at you for not being Craig Kilborn, and then they forget.
This does seem like a good place to do something different but still take advantage of what you do.
That's what I'm hoping. Look, it's early days. We've only made 20 of them. I don't know how it's going to end up, but I feel like we're on to something. I haven't seen all the shows. I was there when all of them were made, and some of them are clearly better than others, but I think we have something. I think if we're clever and we're tough with ourselves, we can make something really interesting here.
Join or Die, Series premiere, Thursday, Feb. 18, 11/10c, History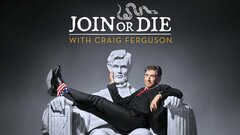 Powered by