Ricky Whittle on 'American Gods': 'The Best Ensemble I've Ever Seen on Television'
After a few stalled attempts, Neil Gaiman's fantasy novel American Gods finally comes to TV. In the series, war is brewing between gods from ancient mythology and a new breed of contemporary deities, whose followers worship technology and celebrity. Shadow Moon (Ricky Whittle, above, with Emily Browning) is an ex-con who becomes a bodyguard for the charming con man Mr. Wednesday (Ian McShane). Unbeknownst to Shadow, Wednesday is one of those old supreme beings on a mission to reclaim glory.
See Also
Plus, check out a new trailer for the highly anticipated Starz series.
In this violent universe, Shadow must rely on more than brawn to survive. "He's got two eyes, two ears and one mouth," explains Whittle. "He learns more if he watches, listens and speaks less."
Gods features an all-star cast—including Kristin Chenoweth, Cloris Leachman and Gillian Anderson—that wowed leading man Whittle: "It's the best ensemble I've ever seen on television."
Whittle eagerly relays a tale told by Gaiman about the origin of the character Shadow, and it begins in an unlikely setting—a campground—where Gaiman met a fellow camper. "[Gaiman] kind of put him down to be a big, dumb guy, who, when everyone was asked to pick up some firewood, he came back with basically a huge log — like a tree — and just dumped it down. And Neil just thought, 'Oh God, this guy's absolutely brainless.' But that night, everyone else was sleeping and the two of them were the last men standing. He realized that this guy was actually super intelligent, very intellectual, cultured. And they talked the night away, and he said he was completely surprised by the personality of this guy." And, per Whittle, Gaiman knew right then and there he had found the perfect foundation for a character.
Whittle boils down the encounter to the essence of his character saying, "Shadow's very much the dumb-looking guy in the room, but he realizes he's got two eyes, two ears and one mouth. And he's always going to learn more if he watches, if he listens, and speaks less."
Whittle also shares Gaiman's explanation for his character's lyrical moniker: "He said he once met a security guard with the name 'Shadow' and then literally two weeks later, he met another guy called 'Shadow.' And that was the only time he'd ever heard that name in his whole life!"
American Gods, Series Premiere, Sunday, April 30, 9/8c, Starz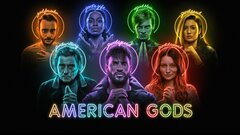 Powered by