'The X-Files' Game Coming in 2018 — Watch a Teaser Now!
The truth is out there…and it may be in an app.
Fox is releasing a digital game, The X-Files: Deep State, in early 2018, where a player can custom create their own character to team up with FBI Special Agent Dale to help solve mysterious crimes. (The official announcement teases there will also be appearances by "fan favorite characters.") In the game, players will have to find clues and evidence, question witnesses/suspects, and solve puzzles to get one step closer to closing the case.
But it doesn't appear to be all standalone: The story is set in spring of 2010 and revolves "around the alien invasion and government conspiracies, as well as self-contained episodes related to various paranormal cases." It will also be ongoing, with new cases to solve every month. (And, of course, The X-Files itself is returning to television on January 3.)
See Also
David Duchovny, Gillian Anderson, Mitch Pileggi and series creator Chris Carter offer a few vague clues about 'The X-Files' Season 11.
The free game (which will allow for in-app purchases), which is officially licensed, will be available in the App Store, Google Play, and Facebook.
Check out the teaser for the game, which also seems to include an homage to a key former X-Files director.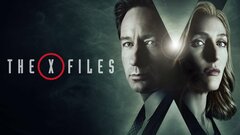 Powered by