'The Blacklist': Ryan Eggold and Producers Break Down That Shocking Fall Finale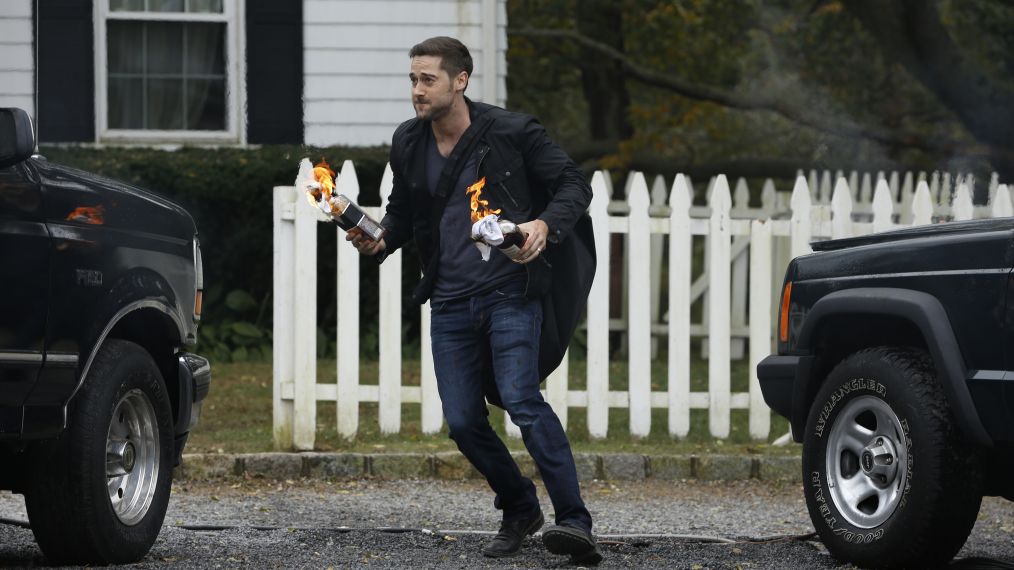 [SPOILER ALERT: Do not read ahead if you have not watched "Ian Garvey," the fall finale episode of The Blacklist. Major plot points and spoilers are ahead.]
The Blacklist's Tom Keen (Ryan Eggold) has joined the growing number of dead TV spouses. In the Nov. 15 fall finale episode, the onetime hitman and beloved husband of FBI agent Elizabeth Keen (Megan Boone) was tortured, then mortally wounded by Season 5's Big Bad Ian Garvey (Jonny Coyne). Garvey desperately wanted the mysterious—and valuable—skeleton that Red (James Spader) was equally as desperate to keep from his daughter Liz.
Sporting a moustache for his role as a KKK member in Spike Lee's movie Black Klansman, due in theaters next year, Eggold sat down with Blacklist executive producers Jon Bokenkamp and John Eisendrath at the show's 100th-episode party to discuss his tragic departure.
That was a sad episode. When did you producers decide to kill Tom Keen?
John Eisendrath: When we got together to talk about the upcoming season's arc.
Jon Bokenkamp: It was a big thing, and we wanted to write toward it in the first eight episodes. Really build up to it and bring them together before it happened.
Tom's death probably broke a lot of hearts. He and Liz had just remarried and were very happy together!
Eisendrath: He lasted a long time. When we first pitched the series, Tom was going to die in the pilot. An executive at our pitch said, "He should live. Then you have the mystery of who he is." I thought that was a great idea. Even so, a spouse on a procedural is usually a third banana by episode four. But Ryan is so singular and undeniable he overcame that inherent obstacle and become one of the main reasons that the show has gotten to 100 episodes. Even though there were times when Spader would say, ''I just want to kill that guy! [Laughs] Why would Red put up with Tom Keen?''
Eisendrath: We'd go, ''He has the protection of Liz's love! If you kill him, you lose the love of the person who means the most to you in the world.'' To Spader's credit, at the end, he was like ''We can't kill Tom!'' [They all laugh.]
Ryan Eggold: I think now made the most sense. Having done the spin-off and the network canceling that, it was sort of anticlimactic to come back.
Fans will miss Ryan and Megan's chemistry. Tom and Liz were pretty hot as a couple.
Eggold: I loved working with Megan. We tried to make each other laugh, surprise each other. These two guys have given us such a journey to take together and so much to play in terms of loving each other, hating each other, spying on each other, forgiving each other.
How will Tom's death affect Liz's life?
Eggold: Tom was one of the few things really grounding her; he provided an emotional anchor. Without that, with the volatility of her job and her relationship with Red, that hole will have to be filled in some way. And it might be filled with the wrong things.
Eisendrath: She'll have to find a way to avenge what happened.
Bokenkamp: She feels that the devil is her father, and we'll see her go more toward a darker side. That comes naturally to her. She'll be wrestling with what is the right thing to do to move forward.
Tom calls Liz to meet him at home from a pay phone in a train station. Are there still pay phones around?
Bokenkamp: We got a note from a Sony exec who said, "I live in New York and there are no pay phones.'' I took a picture of a pay phone in New York several nights ago. I keep getting that question!
Tom—like Red—had the ability to be hated for the horrible things he did and then be forgiven when he did something kind, didn't he?
Eisendrath: Tom is almost like Pinocchio. He's like this broken sort of bad guy who's done horrible things and he just wants to be normal. He wants to have a wife and a child and a house with a picket fence and that sort of idyllic life. He's fighting desperately, trying to carve out some humanity in this crazy world. All the things he's done in the past is a lot to overcome, and early on we'd hear from people that Tom treated Liz so badly, how can you let her take him back? But we've always felt that Tom and Liz's love was real. Tom died trying to get to the truth and protect her. It's ultimately a love story.
Eggold: At the end, in the car, as they were both near death, I remember saying, ''I can't live without you. Please stay.'' Tom was mildly sociopathic when we first met him. He didn't have a lot of empathy for other people, he could kill easily. Falling in love with Liz brought out in him a real human being.
Tom died because of those damn bones, soon after he discovered their identity by reading the results of a DNA test. The presumption is they're Liz's mother's. Will we find out the truth this season?
Eisendrath: You'll find out more about it, but not everything.
Bokenkamp: There are big answers coming!
Ryan, did you take anything from the set as a memento or get any gifts from the cast or crew?
Eggold: These guys got me a ukulele. It was a lovely gift, and I've been playing with it at home.
Eisendrath: And a flat-screen TV!
Eggold: Yes, and a flat-screen TV. I did take a pair of Tom's boots that I had worn for 4-and-a-half years. I'll probably get in trouble with Sony for saying that.
The Blacklist, Wednesdays, 8/7c, NBC. Season 5 will return with new episodes Jan. 3.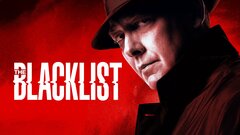 Powered by