'Supergirl' EP Addresses the 'Emotional, Satisfying' End of Sanvers
Supergirl
's supercouple #Sanvers (say that three times fast) came to a heartbreaking end tonight as Alex (Chyler Leigh) and Maggie (Floriana Lima) said one last goodbye. Irreconcilable differences over kids—Alex wanted them, Maggie not so much—matched with
Lima's decision to leave the show
made it clear the pair was headed in this direction, but it's still sad to see the relationship that meant so much to fans reach this stage.
Here, executive producer Andrew Kreisberg explains the road to Alex and Maggie's breakup and why this is ultimately a story of a woman finding her own inner superpower.
As this was Floriana's decision, how early did you know you would have to craft the end of Sanvers?
We approached Floriana's reps at the end of Season 2 hoping to make a longer-term deal with her, but unfortunately she wanted to pursue other opportunities. Happily for everyone, Floriana was willing to come back for 5 episodes in order for us to craft an emotional, satisfying end for Maggie as a regular presence on the show.
Clearly this is a relationship that matters deeply to the fans but like in life, not every relationship lasts. Especially first loves. Is the idea to let Alex heal a bit after this and then explore a new relationship?
Definitely. We would be doing a disservice to how much Alex and Maggie mean to each other, and to the fans, to not have the end of their relationship have a meaningful impact on the show moving forward. Just as Kara (Melissa Benoist) has spent months dealing with the grief and confusion of having lost Mon-El (Chris Wood), Alex will be dealing with the loss of Maggie over the next batch of episodes. That's not to say every episode will be a downer, but Maggie's departure will be recognized and felt by both Alex and the series.
See Also
Melissa Benoist, Chyler Leigh, Katie McGrath and Floriana Lima reveal their characters' greatest strengths.
The show has always been so strong in its female empowerment message, whether they wear a cape or not. What will Alex gain from this loss?
Look, we would have much rather have had, as Alex said in 301, "The biggest, gayest wedding National City has ever seen." Unfortunately, it was not to be. But in a weird way, I think Alex's decision to let Maggie go is her being strong. She knew that even if she was happy now, one day she would lament the loss of not having children. What Alex did for herself and for Maggie required great strength and it's an example of how far her character has come these last two years.
Has Floriana expressed being open to returning at a later date?
Absolutely! And when the time arises where we can all work it out, we would love to have Maggie and Floriana back on the show. Floriana was an important part of Alex's and the series growth this past year. We will forever be grateful for her talent, trust and enthusiasm and she always has a home in National City.
Supergirl, Mondays, 8/7c, The CW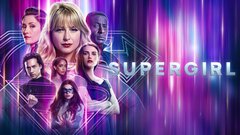 Powered by