Tastemakers: Laila Ali Loves Helping Families in Need on 'Home Made Simple'
Who wouldn't love being coached by Laila Ali—especially if she's serving up comfort food? The undefeated four-time world boxing champ and daughter of Muhammad Ali is the new host of Home Made Simple, the food-and-design hit that gives frazzled families a fresh lease on life.
You show up at a home with your interior designer, a carpenter and recipes from your upcoming cookbook, Food for Life (St. Martin's Press), then make magic happen for people who really need it. What's in it for you?
I love playing fairy godmother! Some of the families I meet have been struck by tragedy and really need a morale boost. Some simply have no design aesthetic and are living in beige rooms—50 shades of beige! Everyone needs a beautiful and safe haven in this world, one that helps you get through the grind. I'm all about helping people find that—but in a simple, inexpensive, do-it-yourself kind of way.
What are the rules when you arrive?
People need to believe they can have their own oasis—that it's not just something for rich people. Creativity is a must. So is good old-fashioned elbow grease. Most important, be open and have fun. I love it when a family lets it all hang out.
See Also
Forget breakfast. Let's have Dinner at Tiffani's! Lance Bass, Elizabeth Berkley, Mario Lopez, Tim DeKay, and Seth Green are among the stars showing up at Tiffani Thiessen's house for her new Cooking Channel series. Liquor consumption encouraged. Cell phones not allowed. Is this s...
Ever encounter resistance to your low-carb, low-cal recipes?
Oh, man, encouraging folks to eat healthy can be hard! These days, people are so worried about making ends meet that the last thing they're thinking about is eating good, whole, nutritious foods. Well, we better fix that problem because the older generation is really suffering. I do a lot of speaking about this around the country and meet so many grandmas and aunts—especially African-Americans—who are dealing with diabetes, obesity, heart disease. Yes, we want our comfort foods. Pizza, cheesy eggs, corn bread dressing—I show you how to have all that, wisely. But you have to invest in your health while you're young. Otherwise you pay for it later. [Laughs] Don't get me started on this!
Years ago you did some nice acting work on Strong Medicine but have rarely taken on roles since. How come?
I will never be that girl who prepares her heart out for a part and then goes on the audition only to hear, "Uh, nope, too big" or "Sorry, too tall." That is not me. I need to be in charge of my life, not handing the control to others. But, hey, if someone calls up and offers me the part of Superwoman, I will be there in a heartbeat!
Home Made Simple With Laila Ali, Saturdays, 9am/8c, OWN
---
Laila's Gochujang Guacamole
This Mexican-Korean fusion appetizer is one of Ali's favorites, and it's heart-healthy—just skip the greasy chips!
Serves 6
Ingredients
4 medium avocados
1 small tomato, chopped
½ small red onion, minced
1 tbsp. gochujang (Korean chile paste)
¼ cup chopped fresh cilantro leaves
½ tsp. sea salt, plus more to taste
1½ tbsp. fresh lime juice, plus more to taste
Directions
Slice avocados lengthwise around the pit, then carefully remove the pit. Using a large spoon, scoop out the avocado flesh and place in a large bowl. With the back of a fork, mash the avocado to desired smoothness. Mix in tomato, onion, gochujang, cilantro and salt. Stir in lime juice until combined. Taste and season with more salt and/or lime juice as needed. Serve with pita wedges and fresh vegetable slices.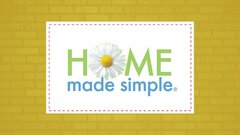 Powered by