Tastemakers: Tiffani Thiessen Brings Stars to the Kitchen
Forget breakfast. Let's have Dinner at Tiffani's! Lance Bass, Elizabeth Berkley, Mario Lopez, Tim DeKay, and Seth Green are among the stars showing up at Tiffani Thiessen's house for her new Cooking Channel series. Liquor consumption encouraged. Cell phones not allowed.
Is this show your career in flashback? You're cooking for costars from all of your series: Saved by the Bell; Beverly Hills, 90210; Fastlane; White Collar.
It's a fantastic excuse to see my old friends. Along with the whole acting-career craziness, food has been a longtime passion of mine. Sitting down to a great meal for a couple of hours really connects people. As a society, we should be doing it more often. That's why, when you come to my place, you put your phone away.
And there's no such thing as a get-together without a theme?
Are you kidding? I don't just do theme parties with theme menus; I do theme tablescaping. In one episode, we do date night with my husband [actor-artist] Brady Smith and Jason Priestley and his wife, Naomi. We got married eight weeks apart, so it's all about the "I do." I re-create the menu we served at our wedding. I am a theme freak!
Cocktails seem, well, how shall we put this…mandatory?
Oh, honey, please! You cannot have a dinner party without the booze. That's the one thing I'm missing now that I'm pregnant. We do really interesting drinks on the show–watermelon champagne, cranberry prosecco fizz, tequila peach tea–and it leads to very interesting stories. [Laughs] People do get chatty.
So your guests are never uncomfortable partying on camera?
Never. Now, in the kitchen, that's another thing. A lot of my friends are great cooks and get right in there and help me with the recipes. Then there are those who don't know what a knife does.
Can we safely assume you're a food-show junkie?
I'm insane for them all–MasterChef, Top Chef, Chopped. Basically, I will watch anybody cook anything. And I especially love shows where people go to a fabulous grocery store or farmers' market. It's like porn to me.
---
Poke, Man!
"When I invite people over for game night, they need their hands free," Thiessen says. "This is a perfect small-bite dish, with a wonderful Japanese-Hawaiian flair."
Tuna Avocado Poke
Serves 4
Ingredients
1 pound sashimi-grade tuna, cut into small cubes
3 tablespoons finely chopped cilantro
2 teaspoons grated fresh ginger
1 jalapeño, minced, optional
1 shallot, minced
1/4 cup soy sauce
2 tablespoons sesame oil
1 avocado, cut into small cubes
1 head Bibb lettuce, leaves separated
Instructions
Combine the raw tuna, cilantro, ginger, jalapeño, shallot, soy sauce, and sesame oil in a bowl; toss gently. Cover and refrigerate for 1 to 2 hours. Just before serving, fold in the avocado. Scoop 1 1/2 to 2 tablespoons of the poke mixture onto each lettuce leaf and serve.
Dinner at Tiffani's, Wednesdays, 10/9c, Cooking Channel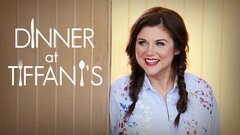 Powered by